Lauren Pries
Project Manager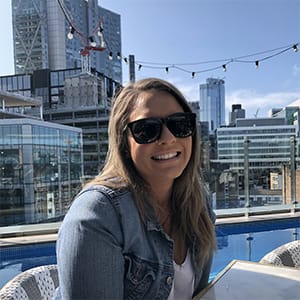 Passport to Anywhere
This photo is of me in London eating fish and chips. I love to travel. There is nothing better than exploring different cultures and cities. I try to do one international trip a year. This trip was not planned at all, and my boyfriend and I just went with the flow every day. We met some great people and made so many memories.
Meet Lauren
Lauren graduated from California State University San Marcos in San Diego with a degree in economics. She began her career in the hospitality industry in Las Vegas where she was a hotel manager at a large resort. That's where her love of events was born, and, as they say, the rest is history. Pursuing her passion for planning meetings and conventions, she devoted the next six years as a convention service manager for three different properties. Lauren joined the eventPower team in 2021 as a project manager where she supports her clients with a keen eye for detail, ensuring bottom-line results and exceptional execution.
---
Fun Facts
Would you rather vacation on the beach or in the mountains?
I'm a beach girl through and through. Growing up in San Diego, I lived at the beach. There is something about the fresh air and the waves crashing that brings peace and serenity to life. I have also been surfing since I was young and love being in the water.
What was your favorite vacation?
I love to travel and have been to eight different countries. However, my favorite vacation was when I went to Australia. I backpacked through Australia for over two weeks by myself. I was able to meet so many different people, held a koala bear and was able to surf at the famous Bondi Beach. Traveling by myself was such a different experience and so rewarding.
What is your favorite thing to do in Las Vegas?
Living in Las Vegas, I do try to avoid the strip as much as possible. However, Vegas has so many outdoor activities that tourists never get to experience. We have some amazing hiking and biking trails that end with beautiful views of the city. Lake Mead has every water activity you can imagine! Hands down the best part of Las Vegas is that we have the best restaurants in the country along with any concert or show you would want to see always coming through town. There is always something to do in Las Vegas.
What was the first concert that you went to and where?
The first concert I can really remember attending is N'SYNC in San Diego. I remember the feeling of excitement when they came on stage, and I think that is where I fell in love with events. Fun fact: last year I went to an event that was a collaboration with N'SYNC and Backstreet Boys. My 13 year old self was screaming inside!