Damien Grimm
Production Manager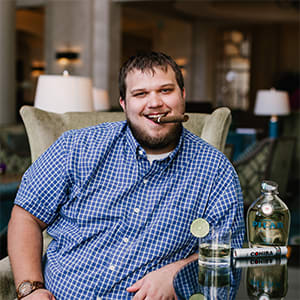 What would Hemingway do?
One of my favorite historical figures is Ernest Hemingway. The rum pictured is styled after the rum that Hemingway would have enjoyed in his day. It is also one of the only companies that include the real Hemingway family and supports their foundation. Much like the rest of the men during his time, Hemingway enjoyed his fair share of cigars, and so do I! These two objects represent two pastimes that encourage trying something new and sharing your experience with others.
Meet Damien
The human condition is greatly enhanced by adventure, and Damien gets to live that each day. From starting in community theater to taking a dip into rock 'n' roll and touring to a fantastic time at the Abraham Lincoln Presidential Library and Museum, Damien ultimately found his home in live events. On a whim, Damien up and joined his family in sunny Key West, Florida where he found a small company that he virtually knew nothing about. Maybe you've heard of PSAV? During his tenure with PSAV, Damien had many amazing clients, visited many locations, earned achievements and certainly had lots of learning experience! This opportunity ultimately brought Damien to meet some of the most amazing people at his current home at eventPower. Damien joined eventPower in the fall of 2019 as a Technology Coordinator. In this ever-expanding role, Damien helps manage shipping logistics, on-site AV and a few exciting video projects. Oh and, of course, he assists all of the great teams within eventPower whenever possible. When he's not traveling, Damien spends most of his time in Indianapolis, Indiana, hiking, gardening and enjoying life's adventures. As one of his favorite sayings goes, "Adventure is out there", Damien certainly gets to embody that phrase each day with a lot of travel and plenty of time to visit his family and friends in Key West.
---
Fun Facts
If you could have dinner with anyone (current or historical) who would it be and where would you go?
This is always a challenge to answer because there are so many. However, one of my favorite times in history is the 1893 Chicago World's Fair. If given the opportunity, I would love to have dinner with Charles H. Wacker. It would be a great opportunity to hear how he managed one of the greatest "expo" halls ever. Seeing as the fair introduced Cracker Jacks, I'd find it fitting to converse over that and wash it all down with PBR.
What is your "go to" karaoke song?
My go-to karaoke song is "Tequila - The Champs". I almost never forget the words.
What sports team do you root for?
Cubs, Bears and Blackhawks
What other languages do you speak?
German, Spanish and some French