Lexie Kassebaum
Marketing Coordinator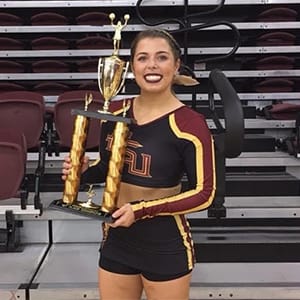 Smells Like Team Spirit
I cheered on the club team at Florida State for two years until I partially tore my UCL my sophomore year of college. Cheerleading was a large part of my life for many years, and I'm hoping to get back into tumbling at some point.
Meet Lexie
Lexie graduated from Florida State University with a degree in Marketing in May 2020. She moved to Tampa after college and began her career as a Business Development Representative. That position allowed Lexie to realize that she loved marketing. Lexie furthered her education in this realm, receiving a certificate in Digital Marketing through Northwestern and working as an intern for a public relations and social media company. Lexie is excited to apply the skills she learned in these positions in her role as Marketing Coordinator for eventPower.
---
Fun Facts
If you could be on a reality show, what would it be? Would you want to play the hero or the villain?
I love reality TV, and I would say it is my guilty pleasure. I would be on the show "Summer House" on Bravo, and I would want to be the hero.
What is your "go to" karaoke song?
"Man I Feel Like A Woman" by Shania Twain
What sports team do you root for?
The Yankees and Giants
What is your favorite way to spend your free time?
I really enjoy yoga and Orange Theory. But on the flip side, I also enjoy spending time with my friends going to brunch.