Michael Rueff
Event Technology Specialist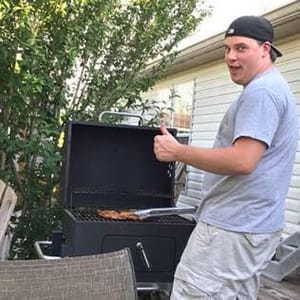 The Grill Master
I am a big fan of grilling. If you ask me what I want for dinner, one of my top go-to is some form of grilled meat. If I am going to prepare meat, grilling is the only method I will choose. And charcoal is definitely the best way, and I will argue with you about this.
Meet Michael
Hard work and determination has always fueled Michael. This determination is abundantly evident in his personal life and his professional career. He is not only a master of his grill at home, but he is also the master of mixing boards and lighting controls at work. Michael began his AV/Production career in college where he worked as a student technician. Michael was eager to learn and took on multiple responsibilities including running audio, lighting, set building, stage rigging, operations, cable management and anything else he could get his hands on. Majoring in music provided him the unique perspective of both the front stage performance and back stage production. This dual experience paved the path for his professional career. Michael worked for PSAV/Encore where he refined his skills and developed a passion for event planning and execution. His determination allowed him to quickly climb the corporate ladder and escalated from a part-time technician to full-time technician then Sales Manager for two PSAV properties. Michael joined the eventPower team as Event Technology Specialist where he plays a major role in assessing client needs and supporting the full execution and realization of conferences. Michael is a great team player who surpasses the expectations of his teammates and his clients.
---
Fun Facts
What are some things you think everyone should try at least once in their lifetime? Why?
I think everyone should have a chance to travel to various parts of the world. Experiencing different aspects of humanity can really open up one's mind to new and intriguing things that will help oneself and those around him.
What is your favorite way to spend your free time?
I am a huge video game nerd which is where I spend a lot of my free time. I am a huge sports fan and I love spending my free time watching a great game on TV. I can't wait to be able to get back in a stadium!
What sports teams do you root for?
I am a die-hard Chicago sports fan... White Sox, Bears, Blackhawks and yes, even sometimes the Cubs. It wouldn't surprise anyone to see me wearing a White Sox hat or a Bears t-shirt, or sometimes both at the same time.
When you were 16, what did you want to be when you grew up?
When I was 16, I wanted to be a computer programmer. I took classes in high school and eventually started studying that in college. However, screen burn-out made me switch to music. Quite the dramatic switch, but I now know that I would not be the person I am today without having made that switch.