Event News


Stay up-to-date on all the latest eventPower happenings.
Visit our news archive.
Join Our Email List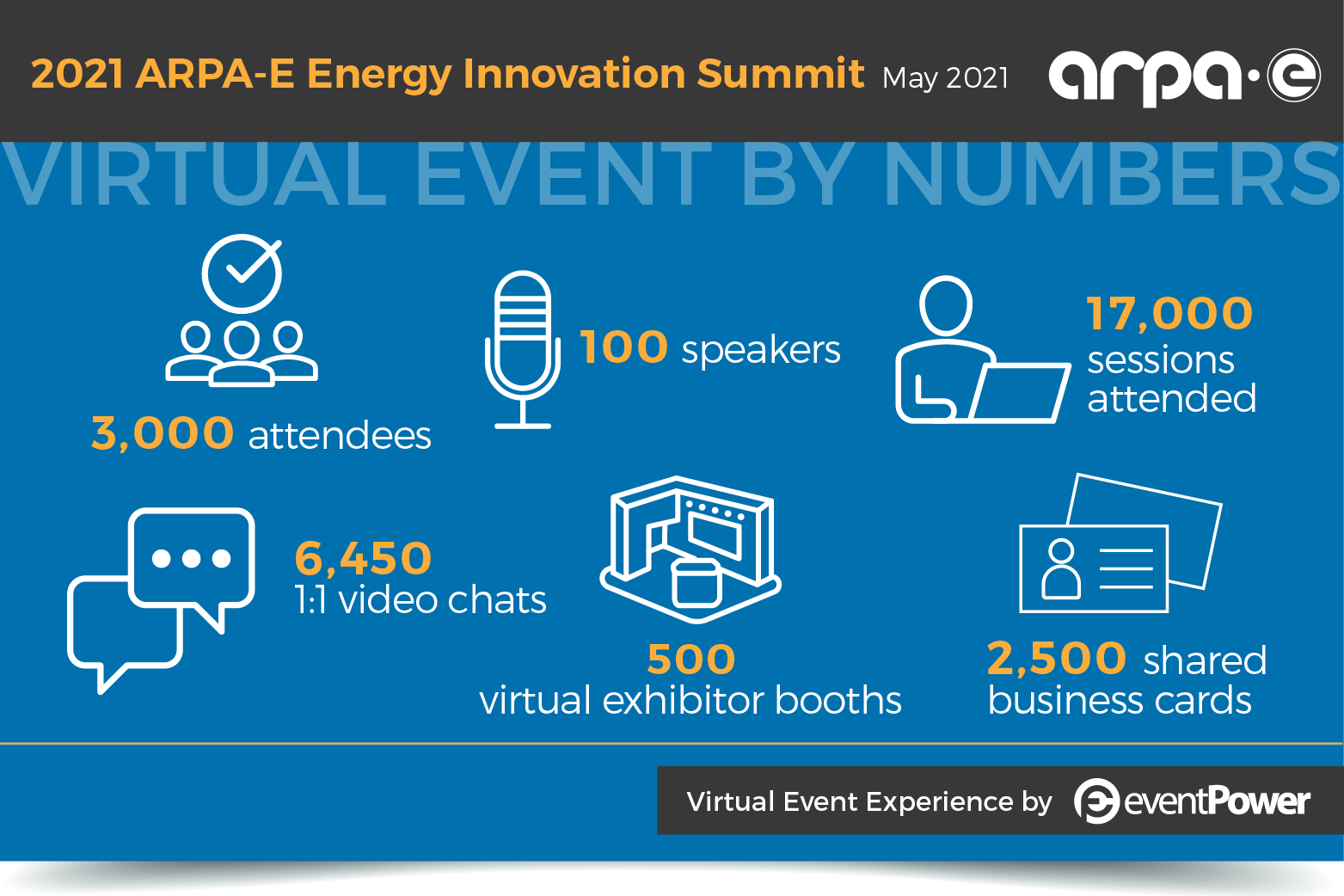 ARPA-E Energy Innovation Summit
August 20, 2021
The 2021 ARPA-E Energy Innovation Summit brought together over 3,000 attendees from across the globe for the 11th annual technology showcase and conference hosted on the eventPower Virtual Event Experience.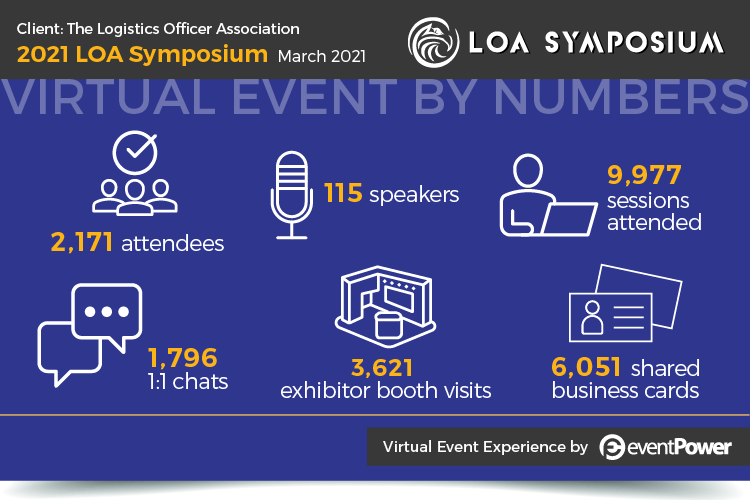 LOA Symposium
May 4, 2021
The Logistics Officer Association (LOA) Symposium is dedicated to enabling interactive exchanges among logistics, acquisition and technology professionals from across the Department of Defense, defense industry and academia. In 2021, the LOA Symposium went all virtual to deliver the premier event with a continued focus on Leadership, Innovation, Velocity and Excellence (L.I.V.E.)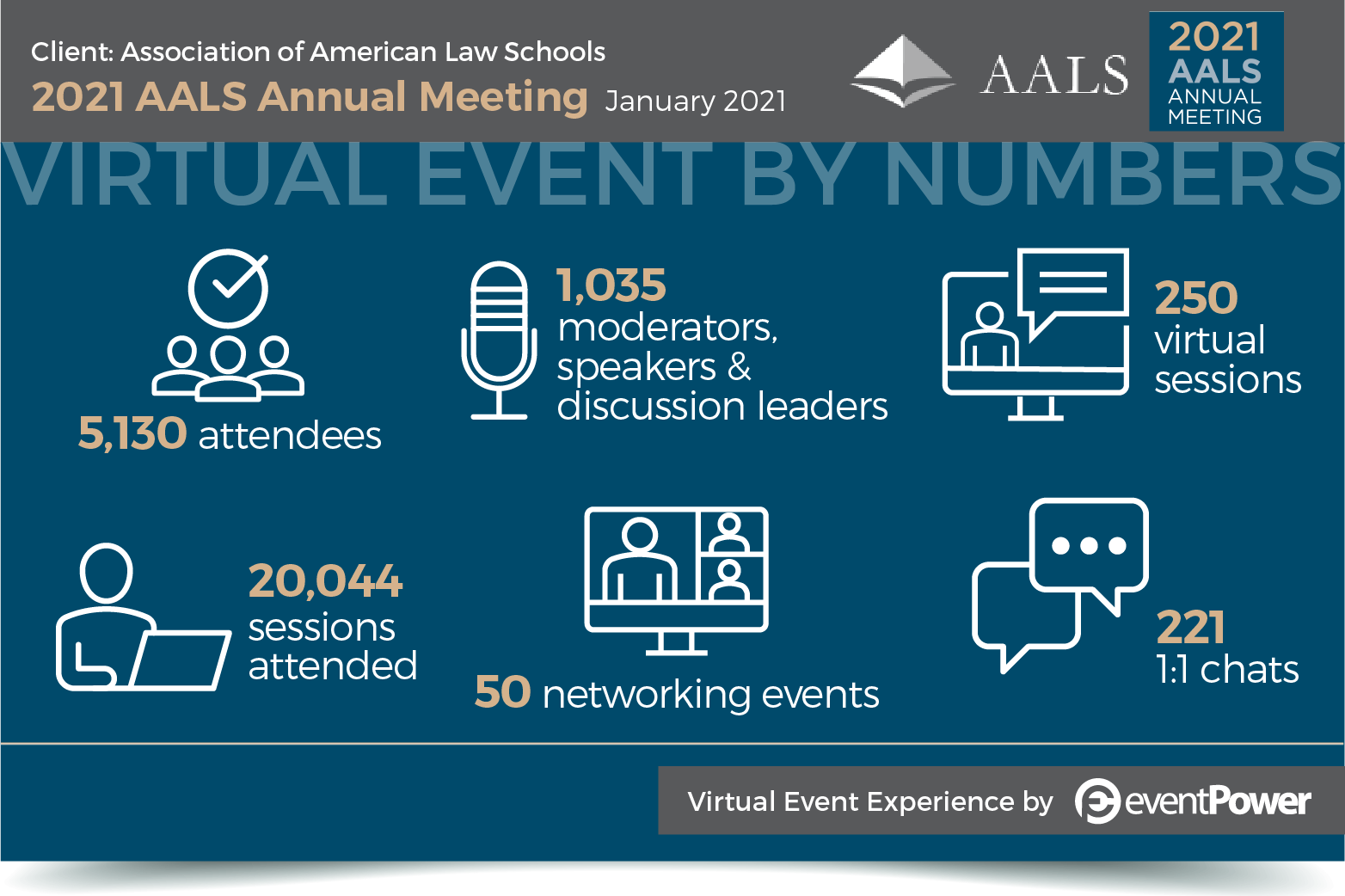 AALS 2021 Annual Meeting
April 5, 2021
Like many events, The Association of American Law Schools needed to find a virtual platform to host their annual meeting. As an event that particularly emphasized their educational sessions and array of networking opportunities, they decided to partner with eventPower to maximize their virtual interaction. The 2021 AALS Annual Meeting: The Power of Words allowed attendees to hear from leaders in legal academia and the legal profession, join networking events and participate in a full range of sessions including panels, works-in-progress and discussion groups.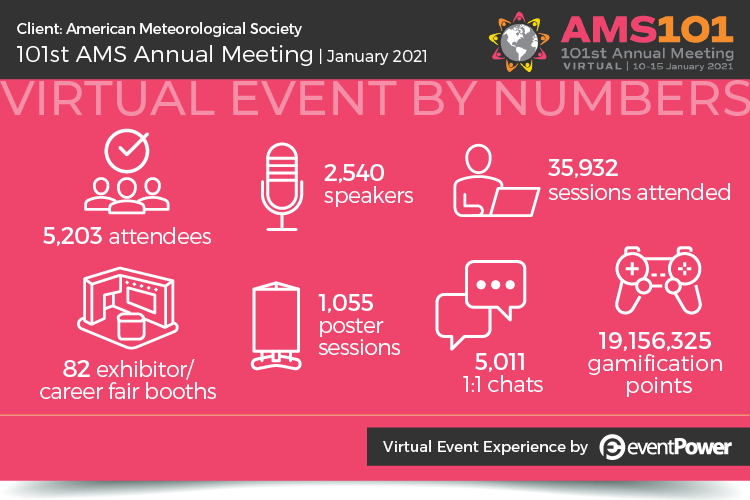 American Meteorological Society
January 15, 2021
The 101st Annual Meeting of the American Meteorological Society delivered oral and poster sessions, networking opportunities and exhibits to thousands of attendees utilizing the eventPower Virtual Event Experience. Thank you to AMS for trusting eventPower to help make your virtual event a success!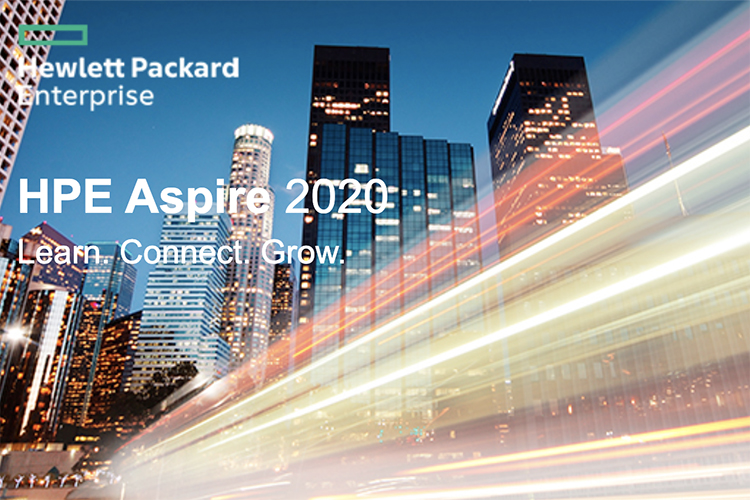 HPE Aspire 2020
May 25, 2020
We are proud to have partnered last week with Hewlett Packard Enterprise (HPE) to host their very first virtual conference, HPE Aspire 2020. Thank you HPE for having us be part of successfully transitioning your in-person event to a virtual event with over 300+ live sessions!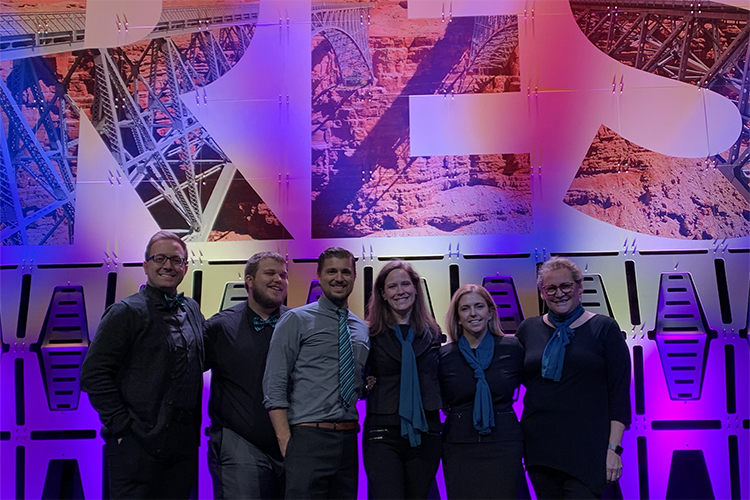 RES 2020
March 6, 2020
The RES2020 Summit held March 1-5, 2020 at the Paris Las Vegas Hotel & Casino in Las Vegas, NV was a huge success. RES2020 is high caliber networking summit, centered around continuing to provide opportunity for American Indian Enterprises. The summit this year featured: 4,000+ attendees, 200+ trade show exhibitors, 40+ artisan booths and 100+ business development sessions. eventPower has already opened registration and booth reservations for 2021. We are excited about returning to the Paris Las Vegas Hotel & Casino in 2021!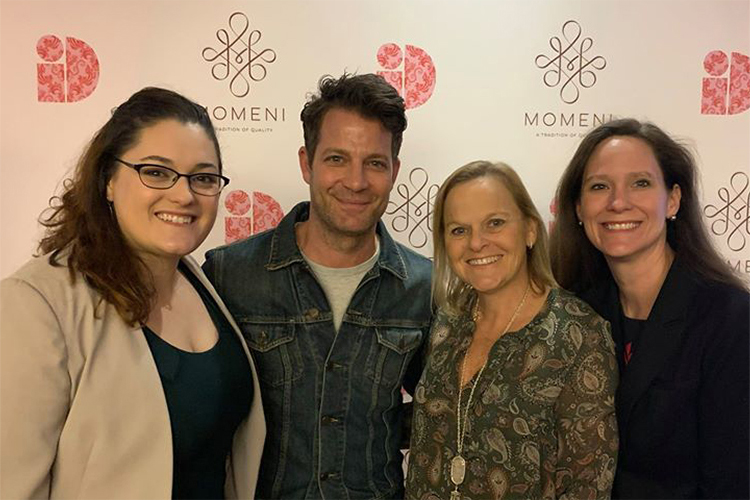 2020 Design Influencers Conference
March 4, 2020
eventPower had the pleasure of partnering with Esteem Media to host the 2020 Design Influencers Conference, held at the Grand Hyatt San Francisco on March 1-3, 2020. The Design Influencers Conference is the only conference focused solely on the interests of interior design influencers and interior designers. Attendees learn how to use social media and digital content marketing to build their businesses and personal brands in the interior design industry. Nate Berkus was one of the many fabulous keynote speakers this year, eventPower had the pleasure of meeting him.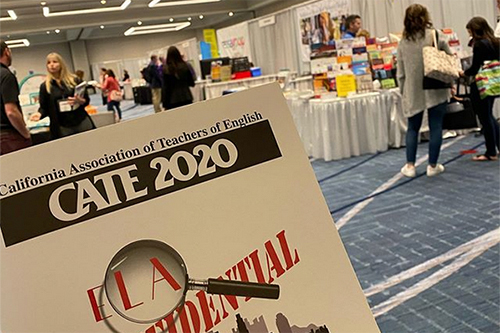 CATE 2020
February 21, 2020
eventPower supported the California Association of Teachers of English (CATE) Convention in Los Angeles, CA registering, checking-in and badge printing for almost 1,000 attendees. Working closely with the CATE team, eventPower's registration manager helped ensure all attendees were fully paid, checked-in, and received their badge quickly while onsite.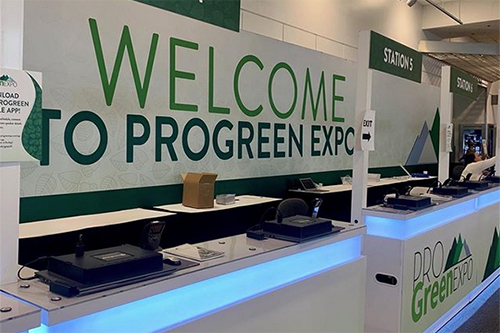 ProGreen EXPO 2020
February 10, 2020
ProGreen EXPO is a green industry conference which takes place yearly in Denver, CO and attracts more than 6,000 attendees. eventPower handled pre-event registration along with onsite badge printing and onsite registration. Attendees checked-in quickly and those who didn't pre-register were able to register and get on their way easily. eventPower introduced group registration making it easy for organizations to register, track, and pay for their attendees. Groups ranged from 5-50+ attendees and significantly simplified their registration and check-in process.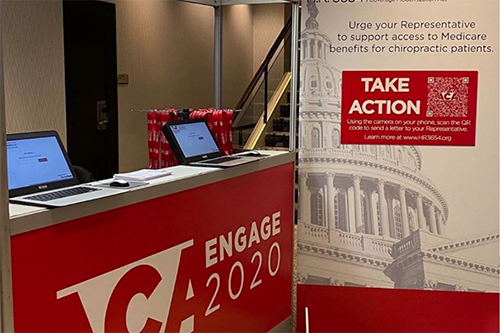 ACA Engage 2020
February 3, 2020
The American Chiropractic Association (ACA) Annual Conference in Washington, DC expanded eventPower's client-base in the medical industry. This event is targeted to bring together industry leaders to meet with members of Congress on Capitol Hill for education, networking, and leadership-development opportunites.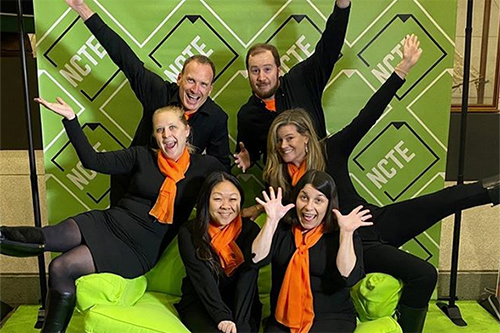 2019 NCTE Annual Convention
November 22, 2019
The 2019 National Council of Teachers of English (NCTE) Annual Convention in Baltimore, MD showcased eventPower's Speaker Management tool by managing thousands of speaking applications. Each application went through a multi-tier review process involving hundreds of reviewers. These reviews resulted in one thousand approved sessions scheduled using eventPower's Agenda Management platform. The complexities of managing the sheer number of applications, speakers, and reviewers displayed the true power of eventPower's Speaker Management tools.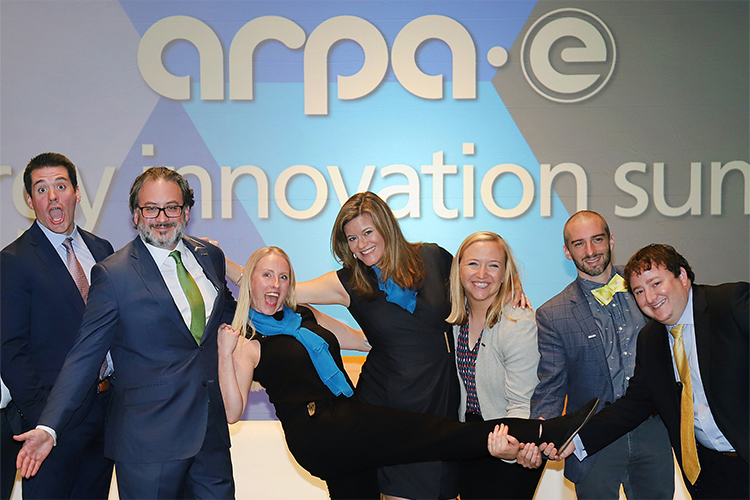 2019 ARPA-E Energy Innovation Summit
July 25, 2019
eventPower has supported the Department of Energy's ARPA-e Summit over the past several years. The photo includes the team of contractors, sub-contractors and the government host having fun on stage after a long day onsite. The event is complex due to the vast number of moving parts including exhibits, sponsorships, matchmaking, mobile applications, complex registration solutions, and an extensive list of classes and presentations.
Our Clients are Talking

eventPower is a rare gem. It seems most vendors today offer a one-size-fits-all product or conversely price-prohibitive customization. eventPower strikes a refreshing balance between the two with a team who genuinely cares about the outcome of your event."

- Maury Edwards, National Council of State Housing Agencies
NCSHA Annual Conference & Showcase