Sommer Jackson
Project Manager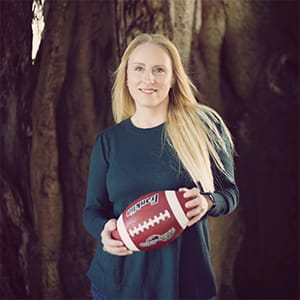 Steelers for life!
I am a huge football fan! I was raised to be a Steelers girl, and that is how I knew my husband was the one as he was raised a Steelers fan as well! Steelers for Life!
Meet Sommer
Sommer served in the U.S. Air Force for five years as an Intelligence Analyst/Targeteer working with the F-117 Stealth Bomber at Holloman AFB, NM and then the A-10 Warthogs at Davis-Monthan AFB in Arizona. As an Intelligence Analyst/Targeteer, Sommer provided current intel briefings to the base Commander and pilots, trained pilots on different threats/countermeasures and built their flight plans and targets. On a deployment to Sarajevo, Bosnia, Sommer met her husband of almost twenty years. Shortly after the deployment, she got out of the service and went to college to become a Respiratory Therapist. Sommer worked in the hospital as a Respiratory Therapist and the Kansas State Maximum Security Prison as a Purchasing Agent for about five years while going to college to receive her Bachelor of Science degree. After moving to Maryland, Sommer worked for the Maryland Association of REALTORS (MAR) as an Executive Assistant while obtaining her MBA in Project Management. After MAR, Sommer received a position to run the Office of a Presidential Appointee at the Export Import Bank in Washington, D.C. where she had the opportunity to attend several White House picnics meeting President Obama, First Lady Michelle Obama and Vice President Biden. After her two-year political term ended, Sommer took a position as the Director of Administration for a former Republican National Committee Chairman. After almost two years in this position, Sommer was offered a position as a Project Manager with eventPower where she has been with the company since 2014.
---
Fun Facts
If you could be on a reality show, what would it be? Would you want to play the hero or the villain?
If I could participate in a reality show, it would be Naked & Afraid as long as my husband could be my partner.
What is your favorite way to spend your free time?
Having great conversations while drinking bourbon with my husband.
What sports team do you root for?
The best NFL team of all time of course! The Pittsburgh Steelers!
What are people often surprised to learn about you?
That I was in a Blackhawk that went down in Bosnia and was stranded for two days and the only reason why the control tower noticed we were missing is because I had a dinner date with my future husband.