Sharon Ruyle
Senior Customer Service Manager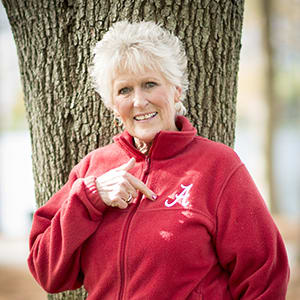 Fore Crimson Tide
I am part-owner of a golf club in Tuscaloosa, AL and an avid fan of University of Alabama football.
Meet Sharon
Sharon has been part of the eventPower family for over 15 years in roles from facilities management contracting to registration and everything in between. Currently, Sharon supports eventPower's clients and event attendees in customer service. Prior to eventPower, Sharon worked for the Department of Veterans Affairs for 33 years, plus 2 more years as an independent contractor. Sharon earned her Bachelor of Science degree in Education from the University of Missouri. She resides in Tuscaloosa, AL where she spends as much time as possible with her two daughters and two grandchildren.
---
Fun Facts
If you could have dinner with anyone (current or historical), who would it be and where would you go?
Without a doubt, I would choose between Meryl Street and Hellen Mirren.
What was your favorite vacation?
My favorite getaway would be a two-week Mediterranean cruise that would begin in Barcelona, Spain and end in Venice, Italy.
What sports team do you root for?
University of Alabama football - Roll Tide!
What is your favorite ice cream flavor?
My favorite scoop of ice cream is mocha. There is nothing better than a cold cone of this coffee-flavored perfection on a hot day!