Megan Corn
Project Manager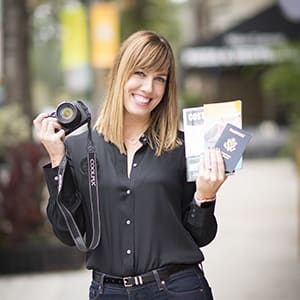 The Consummate Planner
I love to travel! Any chance I have to travel for personal reasons is fun and exciting for me. I spend hours doing research on the "must-see" spots and restaurants before the trip. And then once there, I love to take pictures to memorialize all the great sites and experiences.
Meet Megan
Megan supports her clients by managing the speaker and agenda processes and functions as a Speaker Manager at eventPower. With dozens of clients and events that scale across many different industries, Megan brings perspective and ideas to help take her client's events to the next level using eventPower's signature conference management software. Prior to joining eventPower in 2018, Megan spent the majority of her career at Raymond James Financial, a full-service brokerage firm and Fortune 500 company. Working in several capacities over 18 years, her last role was managing a team that created and supported professional development programs for associates across the country. Her experience includes developing and leading conferences and the content, as well as designing and leading training sessions and materials focused on process improvement. Megan received her Bachelor of Business Management from The University of South Florida, and lives in Tampa, Florida.
---
Fun Facts
Would you rather vacation on the beach or in the mountains?
I grew up in Florida and spent most weekends at the beach or on the water. I love the beach and still enjoy traveling for beach vacations, but the mountains are very special to me. When I was younger, I spent time in the Smoky Mountains with my family hiking and climbing rocks. Now, I love going skiing out west and also going back to visit the Blue Ridge Mountains. My husband and I even got married overlooking the Smokies in Asheville, NC.
What is your favorite way to spend your free time?
I love to cook for my family and friends. It's how I unwind at night, and I don't try to rush it. I enjoy researching new recipes to try and cooking for my family and friends. My perfect night would be spent eating one of my home-cooked meals outside with a small group of people special to me, listening to music and enjoying a great bottle of wine (or glass of tequila).
What do you like but are embarrassed to admit?
I hate to admit it, but I have a guilty pleasure of getting sucked into reality tv shows. The Real Housewives series is my favorite.
Who was your first celebrity crush?
My first celebrity crush was Joey from the New Kids on the Block. My babysitter loved this group, and Joey was her favorite so he became my crush. To be honest, I only liked him the most because she did. Goes to show how older girls can really be an influence for younger girls.