Laurie Powell
Chief Growth Officer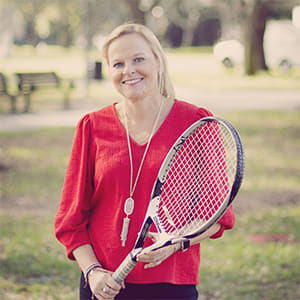 Passion for Tennis
Tennis is my go-to activity to relieve stress while getting some exercise. I picked it up as an adult and just love playing it. If I had a choice, I would play every single day.
Meet Laurie
Laurie has over 30 years of sales and management experience in both events and publishing. Laurie graduated from Bucknell University with a Bachelor of Science in Business Administration. She began her career at Miller Freeman which, at the time, was the largest business-to-business publisher and trade show producer in the world. At Miller Freeman, Laurie was Publisher and Director of Sales of various trade magazines and events. In 2001, Laurie followed the CEO of Miller Freeman to Access Intelligence, another publisher and trade show producer. There she served as a Group Publisher of several magazines, websites and events. In 2010, Laurie joined eventPower as Vice President of Business Development.
---
Fun Facts
What is your philanthropy? Why does it resonate with you?
My philanthropy is Gift of Adoption. I chose this philanthropy because our first child, Harrison, is adopted. My husband and I were fortunate to have the financial means to afford an adoption. Many worthy people should have the ability to adopt; however, the costs can be prohibitive. Gift of Adoption offers grants to prospective parents to help fund an adoption.
What was your favorite vacation?
That's tough as I have so many. For my husband's 50th birthday, we chartered a catamaran with my brother and sister-in-law in the British Virgin Islands.
What is your favorite ice cream flavor?
Coffee... the best.
What are people often surprised to learn about you?
I love the theatre, and could probably sing songs from hundreds of broadway shows. I know songs from Les Miserable, South Pacific, You're a Good Man Charlie Brown to Cats, Hamilton and Dear Evan Hansen. I also know a lot about baseball, in particular, the New York Mets from 1970-2000.