Jessica Geil
Project Manager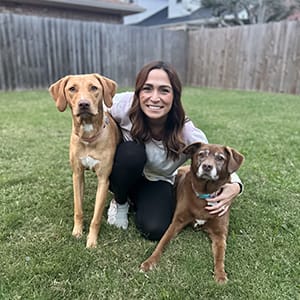 Dog Mom
I am a "dog mom" of two - Cali and Maci. My husband and I would help our local rescue by fostering puppies to keep them out of the shelter. We swore up and down that we would never "foster fail" - where the foster falls in love with the pup and adopts them. We fostered quite a few pups before Maci. After having Maci in our home for one day, we knew we were in trouble. She's been Cali's best friend since day one, and it's been complete chaos in our home ever since.
Meet Jessica
Jessica discovered her love for events more than 10 years ago when she started as a red coat concierge at the Downtown Marriott in New Orleans. This sparked a passion that set her on a path in the hospitality industry. She progressed to become an event manager handling events of various sizes and complexities. Eventually, this journey led her to a national non-profit organization where she excelled in planning and executing large-scale, impactful events. Jessica is a proud alumna of Louisiana State University – Go Tigers!
---
Fun Facts
Would you rather vacation on the beach or in the mountains?
BEACH. Every time. There's just something about sitting on the beach soaking up the sun, listening to the waves crash and of course...people watching - it's just the most relaxing thing to me.
What is your favorite way to spend your free time?
I love unwinding at the end of the day by watching mindless trash tv - usually anything on Bravo!
What are people often surprised to learn about you?
I am TERRIFIED of bees (and yes, wasps too!). I have never been stung, but I have had an irrational fear of them since I was about 4. I will go out of my way to avoid a bee and will run if one comes too close.
What are you dying to try but haven't done yet?
It's always been a dream of mine to go cage diving with Great Whites in South Africa!... Yes, I am scared of bees but will willingly pay to go in a cage with large sharks that could eat me. Don't worry - doesn't make sense to me either.