Erin Ong
Account Manager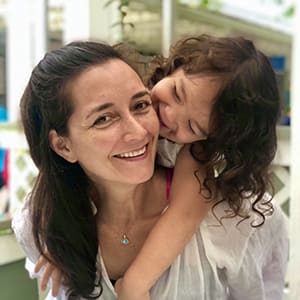 Tasty Tidbits
We spend a lot of time "down the Cape" (as we call it). That's a happy, lobster roll-eating grin on my face as my daughter lovingly hugs/strangles me. Unpaid endorsement: go to the Popponesset Raw Bar in Mashpee, Cape Cod for the biggest, baddest lobster roll!
Meet Erin
Erin has nearly 19 years of experience at Raymond James and Associates where she worked on the Institutional Equity Capital Markets sales and trading desk. In her time at Raymond James, Erin coordinated hundreds of roadshows and conferences, won awards for exceptional client service and remotely managed her team of sales assistants and junior salespeople. Erin graduated from Boston University with a Bachelor's Degree in Sociology. Erin joined the eventPower team in 2023 where she is an Account Manager in the sales department. She works with eventPower clients to boost exhibit and sponsorship revenue for their events using the eventPower platform.
---
Fun Facts
What are some things you think everyone should try at least once in their lifetime? Why?
It's exhilarating when you try something outside of your comfort zone. What I mean is, if you're afraid of heights, then go climb a glacier (check)! If you're afraid of great white shark-infested waters, jump right in (check)! If you're afraid of clowns, go to a circus. Ok, maybe don't go to the circus. Clowns are the worst.
What do you like but are embarrassed to admit?
Hiccups. I do not hate when I have them. I might also think it's hilarious when someone who does hate them is temporarily inflicted. Ironically, this mindset doubles as a cure because I never have them for long.
What is the first concert that you went to and where?
My first concert - sans parental supervision – was the Bell Biv Devoe Triple Threat Tour of 1990 in Providence, RI! Keith Sweat, Johnny Gill and BBD. My girlfriends and I thought we were pretty bada$$. No shame in my 9th grade game, baby!
What is your favorite movie?
How can you choose just one?! Today I will go with Princess Bride because it is simply perfect: quotable, adorable, funny for all ages, and it never gets old.