Erin Casey
Project Manager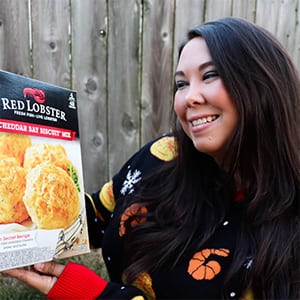 Lovin' the Endless Shrimpventure!
Two things I love in this world are planning events and Red Lobster. I've hosted an annual event called "Endless Shrimpventure" for 7 years and counting, bringing friends together to partake in the all-you-can-eat promotion. When the biscuit and shrimp sweater (with biscuit warming pouch) went on sale, I knew what I had to do. See me for tips on how to make the best homemade Cheddar Bay Biscuits.
Meet Erin
Erin loves bringing people together. This passion matured serving as a program chair and President of the Student Activities Council at Missouri State University. Graduating with a Bachelor of Science degree in Entertainment Management, Erin kept on course with her love of events. From event staff to event management, Erin worked in a variety of settings including cinema, festivals, concerts, sporting competitions, trade shows, conventions and meetings. She loves wearing both creative and logistical hats, bringing the details together and watching them come to life. Erin has a Specialist Certificate in Contracts & Negotiations and is currently pursuing her Certified Meeting Planner designation. She loves to learn and grow with this ever-changing industry and is excited to be a member of the eventPower team!
---
Fun Facts
If you could be on a reality show, what would it be? Would you want to play the hero or the villain?
Dancing with the Stars (either as a pro-dancer or the star). I love the elegance of ballroom dancing combined with the amazing costumes and production elements. I don't think I'm scary enough to be a villain. I smile too much.
What was your favorite vacation?
Anchorage, Alaska to watch the start of the Iditarod. I got to talk to past finishers at the Mushers' Banquet and hear fascinating stories about participating in the race.
What are people often surprised to learn about you?
I once sang the National Anthem in front of 38,000 people.
What is your favorite movie?
My Cousin Vinny. Marisa Tomei deserved that Oscar!