David Basco
Customer Service Specialist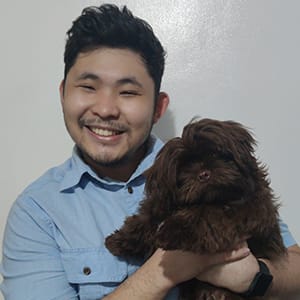 Netflix & Chill
To be honest, my idea of fun is staying indoors and just watching movies, playing video games and sleeping although I feel that's what most of us prefer as well so I will say that spending time with my dog is what I enjoy most. Recently, we've both been re-watching "The Office", and he just sits on my lap as I laugh. It feels like we've known each other forever. Fun fact: I named him Chewie after a certain Star Wars character he resembles.
Meet David
David earned his degree in computer science with a specialization in network engineering. Although a different path than his career journey, David always has the advantage whenever something technical is involved. David has worked in the customer service industry for the last 4 years with roles spanning from trainer to team manager. These experiences have helped him grow both professionally and personally. David joined the eventPower team in 2021 where he combines his technical acumen and customer service skills to support our clients' events in all aspects of customer service and support.
---
Fun Facts
What is your philanthropy? Why does it resonate with you?
I try to execute random acts of kindness whenever I can whether volunteering teaching children in marginalized areas or simply letting someone know their backpack is unzipped. I grew up not having much help, thus I relied mainly on myself to learn things here and there. I suppose that is where my feeling of personal responsibility was born. I enjoy helping those in need, however big or small.
What was your favorite vacation?
I used to live with my grandmother but eventually, she had to move somewhere far away. It was tough adjusting from seeing her every day to only seeing her once or twice a year due to the distance between us. Whenever I visit her, we like to go up in the mountains where it's always the nice kind of cold, and I get to see a lot of trees as compared to the city where I live. That's my favorite kind of vacation -- just a quiet spot away from the noise of the city and being away from the shadows of buildings. Most of all, I enjoy being able to see my grandmother means so much to me as we get to exchange stories.
What is your favorite way to spend your free time?
I'm an introvert by nature, so I cherish a few, closer friendships and staying in. If I'm not sleeping, I practice my cooking. I love each and every cuisine that the world has to offer. If I am offered any food, I will never decline it no matter how exotic it may be. I grew up eating Filipino cuisine so I believe it is where I most excel cooking. I absolutely love spicy food to the point that I can eat chili peppers on their own without any problem.
What is your favorite movie?
My favorite director is Quentin Tarantino. Any of his films would be my favorite -- yes, even the lesser-known ones. The first of his movies that I watched was Reservoir Dogs. I was driven by the minimalistic approach. It didn't need that spectacular action set, although his movies do end with a bang. What made me remain glued to it was the well-written script and the exchange of conversation between these characters who were using code names. You got to know their backstories as well as their teammates. You got to piece together what happened and how they got there. In my opinion, that is the perfect formula for a movie.