Dan Moore
Senior Software Engineer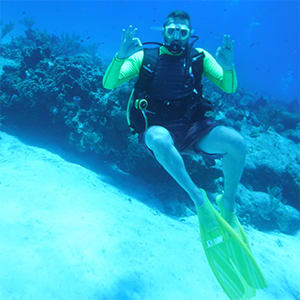 Divin' Right In!
Leading up to my wedding in Cozumel, Mexico, my wife and I certified as open water divers. Ever since we have exploited whatever opportunity we can to scuba dive. So far we've seen the depths of the beautiful blue Caribbean and some dark and murky Virginia lakes. This photo is from one of our first dives in Cozumel.
Meet Dan
Dan completed his undergraduate studies with degrees in both English and Philosophy from James Madison University before going on to earn his Masters Degree in Computer Science, with a focus on Software Engineering, from Christopher Newport University. Following graduation, Dan joined Computer Sciences Corporation developing software to test and support the United States Army's distance learning program. Dan then advanced to Jefferson Lab, a United States National Laboratory located in Newport News, VA where he worked for 14 years as a software engineer supporting the management information services of the lab. As Senior Software Engineer at eventPower, Dan plays an integral role in the development and enhancement of the eventPower suite of software tools including the Virtual Event Experience.
---
Fun Facts
Would you rather vacation on the beach or in the mountains?
I'm definitely a beach-goer. Being able to sit back and listen to the waves crash on the shore is one of the most soothing forms of relaxation I can imagine.
What is the quirkiest thing about you?
I started brewing beer in the late 90s in order to try and find a beer that I would actually enjoy drinking while in college. I've been pursuing great beers ever since, either by trying to brew them or even traveling to various breweries and beer spots around the globe for the purpose of sampling some of the world's finest beers! The furthest I've traveled for beer is Belgium.
What is your 'go to' karaoke song?
Eric Clapton's "Wonderful Tonight".
What are people often surprised to learn about you?
I was a music major in my first year of college. I had a scholarship as a voice major.