Claudia Niewar
Project Manager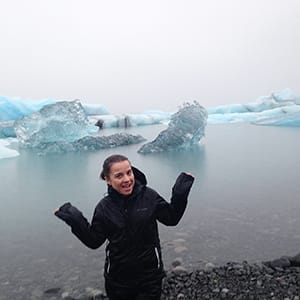 Ice Ice Baby
Just me at the Jokulsarlon Glacier Lagoon in Iceland. (Fun fact: James Bond's "Die Another Day" scenes were filmed here.)
Meet Claudia
Claudia graduated from George Mason University with a degree in Event Management. She worked in the hospitality industry during college and fell in love with meeting planning specifically. She has worked as a Meeting and Event Manager for Marriott Hotels and as a Meetings and Sales Incentive Consultant for a large insurance company. She is Virtual Event & Meeting Management certified and joined the eventPower team in 2022 as a Project Manager. Claudia enjoys traveling, especially to Europe, and speaks German fluently.
---
Fun Facts
Would you rather vacation on the beach or in the mountains?
I love the mountains, and I used to go on hikes in National Parks with my husband and our dogs. Now that we have young kids, I definitely prefer the beach. It's way easier to relax that way.
What was your favorite vacation?
Hands down - ICELAND. I am in love with Iceland and would move there in a heartbeat. I loved driving the ring road and exploring the highlands and countless waterfalls. Between staking out in the middle of the night to experience the northern lights, whale watching, glacier lagoons and hot springs.... it's just magical!
What are you dying to try but haven't done yet?
Hiking to Havasu Falls in the Grand Canyon.
What is your secret talent?
Custom sugar cookie decorating. Sometimes I just need that creative outlet to balance out a long work day.