Charles Edward Estrella
Customer Support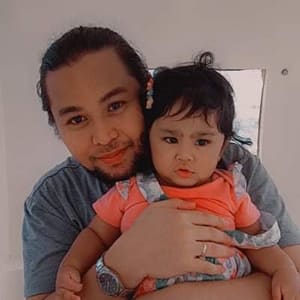 The Sky's the Limit
This is a photo of my 1-year-old daughter and I. This one is memorable for me because it's the first time she was able to go out on a vacation after the pandemic. You can't see much in the picture, but we were on a ferris wheel at that time.
Meet Charles
Charles graduated from the AMA Computer Learning Center with a Bachelor of Science degree in Computer Technology. He has spent the last 16 years working in the call center industry, beginning as a customer service agent and working his way up the ranks to supervisor, a quality assurance representative and a trainer. Charles also spent time in his career managing virtual meetings for several pharmaceutical companies throughout the United States and in the United Kingdom. Charles joined the eventPower team in 2022 in the customer service department, supporting event attendees and clients using the eventPower platform for in-person, virtual and hybrid events.
---
Fun Facts
What are some things you think everyone should try at least once in their lifetime? Why?
Sky diving! Everyone should experience the adrenaline rush that it brings.
When you were 16, what did you want to be when you grew up?
When I was younger, I always wanted to be a firefighter.
What sports team do you root for?
I'm a big fan of the Chicago Bulls, from the Michael Jordan era until now.
Who was your first celebrity crush?
Alicia Silverstone - Clueless was my favorite of her movies.