Carrie Mayer
Project Manager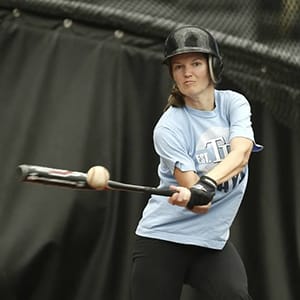 Raised on ESPN
I am a huge sports fan. All our family vacations are to sporting events, and we have college football season tickets. Go Canes! I never miss a fantasy football season or completing a March Madness bracket. I currently belong to an adult softball league as well as coach a little league team for my son. If it involves playing something with a ball, I'm in!
Meet Carrie
Carrie started out her event planning career with the Tampa Bay Lightning hockey team. She was an Event Coordinator during her time at the arena and while she did plan a lot of events for hockey and arena football games, her duties mainly included the logistics surrounding shows and concerts. After six years with the Tampa Bay Lightning, she joined Raymond James Financial where she was a Meeting Manager. She planned educational conferences and incentive trips for financial advisors during her time with Raymond James. While planning reward trips, she was able to travel the world and experience many different cultures and exciting destinations including visiting Machu Picchu 4 times and going on a safari in South Africa! Carrie holds both her Certified Meeting Professional (CMP) and Certified Meeting Manager (CMM) designations.
---
Fun Facts
Would you rather vacation on the beach or in the mountains?
I am born and raised in Florida, and even though it's home, I love to vacation on the beach over the mountains. Nothing beats the sun, sand and ocean breeze. I enjoy bringing a good book and setting up under the beach umbrella while my son tries to outrun the waves approaching the shore.
What is your favorite movie?
Major League or Elf. I brought both to the hospital to watch while giving birth!
What is your secret talent?
I can juggle. I spent years and years as a softball pitcher and lots of time in the bullpen. During this time, I learned to juggle. What else was there to do with so many balls around just waiting to get called into the game?
What is your guilty pleasure?
Playing Candy Crush. I'm past level 12,000!