Adam Nunez
Project Manager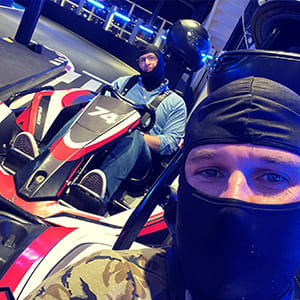 Life's Too Short
I'm here for the experiences. Life is too short, so I make the most of it. From go-kart racing on a cruise ship, zip-lining across the Tongass National Forest and 4-wheeling through Jamaica's rainforest to my first fish-eating pedicure in Mykonos, there's always something to experience.
Meet Adam
Adam has been leading events for over 15 years creating successful, tailored experiences throughout the globe for commercial, private, nonprofit and government entities. Adam's passion for events began in a 9-passenger van and 22ft trailer, traveling the United States and performing character-building programs in elementary schools. After time on the road, Adam earned his Business Marketing degree and Government Meeting Planner Certificate and began his career in event management. Throughout the years, Adam has become known for excellent communication and negotiation skills, detail orientation, organization, leadership, fast thinking and stamina. With his recent role at eventPower, Adam is committed to creating a culture of excellence, quality, service and profitability.
---
Fun Facts
What is your philanthropy? Why does it resonate with you?
Foster Care. Even though 391,000 children are currently registered in the foster care system, thousands of kids never get placed into a forever home. With over ten years of experience working with kids in foster care, this has become the most challenging and most rewarding in my life.
What was your first car?
A black Hyundai Elantra wagon that my friends and I called the Black Pearl. It didn't look like it could run, but magically it did...just not very well.
What is your guilty pleasure?
Fast Food Frenzy! Grab your favorite food items from your top fast food restaurants and bon appétit.
Burger: Wendy's
Fries: McDonald's
Drink: Sonic
Dessert: Dairy Queen
What is your 'go to' karaoke song?
Steve Holy - Brand New Girlfriend
Brittney Spears - Oops, I Did It Again