eventPower in the News
Stay up-to-date on all the latest eventPower happenings.


eventPower Offers Virtual Event Experience
May 26, 2020
EXHIBITOR
eventPower has built onto its existing set of software tools to offer a virtual platform for current and prospective clients. eventPower's platform automatically integrates with video conferencing platforms such as Zoom and Vimeo.
"This pandemic will have long-lasting effects on in-person events well beyond the initial decision to postpone or cancel events. Our goal is to keep people connected and maintain the integrity of each current and past conference we've been part of," said Laurie Powell, Vice President of Business Development.
Read more.
eventPower Unveils New Services and Tools for Live and Hybrid Meetings
April 30, 2020
by Danalynne Wheeler Menegus, Trade Show News Network (TSSN)
Conference management service and software provider eventPower has launched new services and tools to help planners with live, virtual and hybrid events. Clients can choose from fully managed solutions (working with eventPower's meeting planners) or software as a service tools.
"We wanted to improve the efficiency of the existing sales process and create a software that ultimately seeks to increase revenue for our existing and future clients," said Laurie Powell, eventPower's vice president of business development, regarding the new exhibit selection and management tool.
Read more.
eventPower Customizes a 'New Normal' for Each Client
April 23, 2020
EXHIBITOR
eventPower continues to offer as much flexibility for their clients who have been impacted by the COVID-19 crisis. Currently, eventPower is working with over 60 clients offering the best alternatives during these uncertain times where the end date is not guaranteed.
"We know the future of events will look different as the industry emerges from this pandemic. As our staff prepares for events to re-open, we are in touch with each of our clients to discuss how they want their events to adapt and change in the short and long term. We are looking to redefine the attendee, speaker, sponsor and exhibitor experience for live events in the future," said Frank Powell, President.
Read more.
eventPower Launches New Exhibit Selection & Management Tool
April 2, 2020
EXHIBITOR
eventPower has recently launched a new and improved Exhibit Selection & Management Tool. The Exhibit Selection & Management Tool grants exhibitors and sponsors the ability to self-contract. The process streamlines the selection, contracting and management of exhibitors and sponsorships for shows of all sizes.
Read more
.
eventPower Reveals New Clients & Renewals for 2020
February 27, 2020
EXHIBITOR
eventPower announces the signing of two renewals and two new clients looking for assistance with creating efficiencies for their events. eventPower's two newest clients include Total Event Resources (TER) and FinancialForceX Summit while Association of Change Management Professionals and the The Utah Army National Guard (UTARNG) have renewed their contracts after seeing great success.
Read more
.
How to Manage Remote Employees
February 14, 2020
by Brian Hartz, Tampa Bay Editor, Business Observer
More and more companies that operate in industries that don't require a significant investment in physical space — think professional services, such as marketing and advertising — are realizing big cost savings by shifting to a remote workforce.
Some, like Tampa-based eventPower — a tech firm that specializes in Software-as-a-Service event management products — have never operated from a physical office. Its 30 employees are scattered nationwide, which makes sense because the firm also provides on-site management and execution services for a wide range of conferences and trade shows.
Read more
.
eventPower Scoops Up New Clients
November 14, 2019
by Lisa Plummer Savas, Trade Show News Network (TSSN)
Event management service and software provider eventPower has acquired four new clients: National Association of RV Parks and Campgrounds; Pope and Young Club; California Association of Teachers of English, and American College of Preventive Medicine.
Read more
.
Top 500 Companies on the Gulf Coast
Business Observer FL
eventPower made the list!
Learn more.
Laurie Powell: "Listening skills are the best skills a leader can have"
June 20, 2019
by Yitzi Weiner, A "Positive" Influencer
I had the pleasure to interview Laurie Powell, Vice President of Business Development at eventPower. Laurie has over 30 years of sales and management experience in both events and publishing. Laurie started her career at Miller Freeman, which at the time, was the largest business-to-business publisher and trade show producer in the world. At Miller Freeman, Laurie was Publisher for various trade magazines and the Director of Sales for its events. In 2001, Laurie joined Access Intelligence, another publisher and trade show producer, where she served as a Group Publisher of several magazines, websites and events. In 2010, she joined eventPower as Vice President of Business Development where she handles over 50 clients per year that have exhibit and sponsorship components. Laurie manages a sales team and customer support managers. Her team has managed clients with exhibit halls as large as 1,000 booths, 740 exhibiting companies and hundreds of sponsorships.
Read more
.
Tampa Company Expands From Conference Planner to Software Firm
March 19, 2019
by Margie Manning, St. Pete Catalyst
Tampa tech company eventPower got into the software business by accident.
The company, founded 23 years ago by Frank Powell, originally was called Technology Forums and exclusively worked for government agencies, managing their conferences, before a spending scandal forced it to pivot.
Now, the company has three lines of business, about 30 employees around the United States, and $15 million in annual revenue.
Read more
.
Tampa-Based eventPower Grows Through Innovation
February 4, 2019
by Jo-Lynn Brown, Tampa Bay Business & Wealth
Expect Laurie and Frank Powell to be a hit at cocktail parties—if they ever have time for them.
One day, they could be producing a conference of energy startups pitching the U.S. government Shark Tank-style. Another, they could be powering an animation festival for tens of thousands of people roaming the exhibits in wild costumes.
"No two days are ever alike," Frank says with a laugh. "I still don't think my mother knows what I do."
Read more
.
eventPower Featured in Business Observer FL
November 23, 2018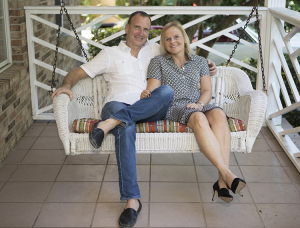 Event horizon: Faced with failure, entrepreneurs tackle a new frontier
When an event management company's main revenue stream dried up, it reinvented itself. The payoff has been celebratory.
Read the Article