Ralph Adriano
Customer Support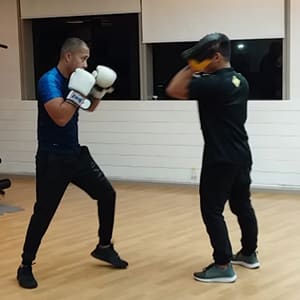 Hit Me With Your Best Shot
During the pandemic, I couldn't go the gym and continue boxing training for almost 2 years since the whole Metro Manila was under community quarantine. This is a picture of my latest training in boxing after almost 2 years of not going to the gym. I'm glad lockdowns and quarantines are over, and I can now go back doing the things that I love to do.
Meet Ralph
As a Psychology undergrad, Ralph worked in the field of customer service for several years. He was promoted to three roles within the same company. Ralph managed a team as an Operations Supervisor, and he also served as a Quality Analyst completing assessments and implementing the overall quality standards in a telco company. During the pandemic, Ralph continued his education completing various masterclasses on media editing and e-commerce. By successfully achieving these certificates, he was able to add it to his impressive arsenal of skills. Ralph joined the eventPower team in 2022 and supports attendees and eventPower clients in the customer service department.
---
Fun Facts
If you could be on a reality show, what would it be? Would you want to play the hero or the villain?
The reality show that I'd be in would be like a talk show that deals with various types of personalities like Doctor Phil. If I were to use a platform to reach a vast audience, I would make sure that I use the opportunity to provide useful information about types of personalities and help viewers understand different mindsets and behaviors for proper management.
When you were 16, what did you want to be when you grew up?
I wanted to be a professional fighter, either boxing or kickboxing. High adrenalin and adventure-seeking run in my family. Some of my relatives, including my grandparents, are either in the military or have black belts in karate or taekwondo.
What sports team do you root for?
As a young boy, I idolized Kobe Bryant and follow the Los Angeles Lakers basketball team. I'm so invested with this team that it upsets me when they don't make it to the playoffs. To this day, I'm still a die-hard Lakers fan and have no plans of stopping.
What are you dying to try but haven't done yet?
Time travel. If it does exist and if I have a chance to experience it, I'd love to try it.