Virtual Event Platform
Expand your audience by taking your event directly to the attendee through engaging virtual or hybrid events.
eventPower's suite of tools build the foundation where all conference content is coordinated to manage your event. That information is then pushed to mobile apps, websites, digital signage and onsite meeting rooms for in-person events. eventPower now layers streaming content to this robust offering to deliver a virtual environment.
Two Birds, One Stone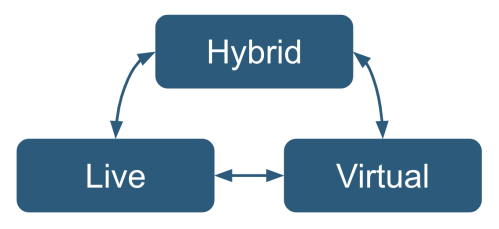 You do not have to purchase separate systems for a virtual event and another for your in-person event. Separate systems would require integrating the content between them, downloading and uploading data, or developing APIs. The eventPower interface delivers the same content to customized attendee portals. Execute hybrid events or quickly pivot from an in-person event to a virtual one if required during the planning process.
Streaming
Leverage internationally recognized streaming tools such as Vimeo, Zoom, Microsoft Teams, Google Meet or other streaming services. Or, integrate with another streaming service including your existing AV production company. There is no need to switch out production companies or duplicate efforts.
Attendee Dashboard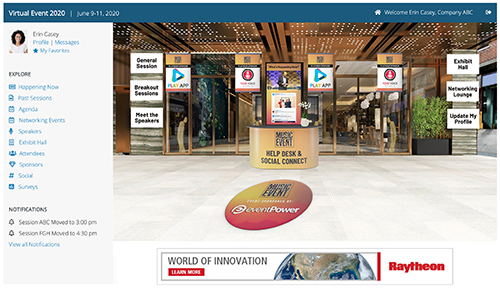 Each attendee (in-person or virtual) can register, customize their own personalized agenda, review exhibitors and sponsors, and network with other registrants.
Virtual Exhibit Hall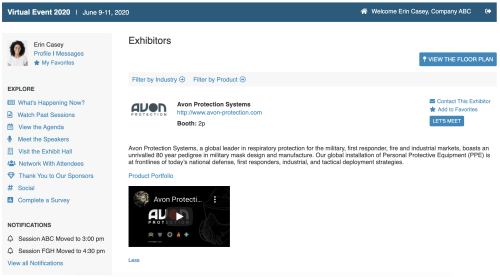 Visit the Virtual Exhibit Hall and browse exhibitor information. Exhibitors and sponsors upload marketing materials and videos to allow attendees to learn more about their products and services. Attendees search using filters based on their interests and contact exhibitors directly to set up a call or web conference during or after event hours.
Sponsorship Opportunities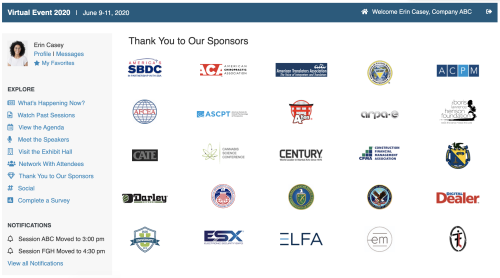 Showcase your sponsors on banner ads, graphic placements or advertising pop-ups throughout the Attendee Dashboard. Sponsors can support individual breakouts featuring their logo on that session's agenda and can be promoted during the session introduction. Backdrops within the sessions can be branded to the event and/or include sponsor logos.
eventPower Team
The eventPower team will work side-by-side with you to deliver these offerings to your attendees, speakers, sponsors and exhibitors. We're here for you every step of the way. Just ask our current clients!