Matchmaking


Matchmaking

Drive deeper engagement with enhanced and powerful attendee networking.

Leverage the eventPower matchmaking tool and enhance the attendee experience with efficient networking that yields better results. Increase attendee engagement while building stronger relationships generating qualified leads that boost ROI for all participants.

Request a Demo

Our attendees loved the new matchmaking features. It was great to be able to switch between the table and detail view to learn more about fellow attendees before reaching out. It made our networking feel much more robust and personable. We especially loved being able to use filters to allow the attendees to be able to match themselves while still being super user-friendly. One of our top sponsors commented that this was the best online networking event that he had seen this year!"

- Melissa Ventresca, Meetings Associate
National Council of State Housing Agencies

Enhanced Networking
Attendees can search for potential networking matches using advanced filters defined during the registration process and within the attendee profiles. In the attendee's private view, they can thumbs-up or thumbs-down potential matches to specify their level of interest. The attendee can request a meeting with another participant by selecting an available time slot within the scheduling tool. Availability is determined by the attendee's preferences and can include time blocks as scheduled by meeting organizers.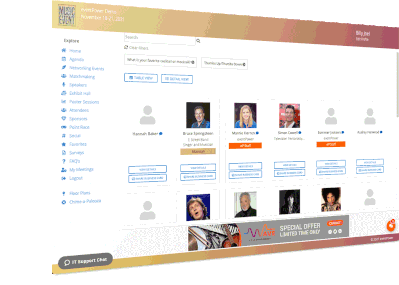 Appointment Scheduling
Attendees can add a brief introduction to accompany their request to create a personalized invite. The recipient can accept the request to confirm the appointment, decline the request or suggest a new meeting time. Attendees can view and manage their meeting schedule in the "My Meetings" feature on the platform and also save appointments to their personal calendar.
Notetaking Ability
Attendees can capture private follow-up notes and important details to recall after the meeting has taken place. Data and notes can be downloaded into one comprehensive report that can be exported to an Excel file for the attendee's use after the event. Attendees can also share feedback with event organizers to let them know if the meeting helped to achieve their goals and confirm if everyone was in attendance.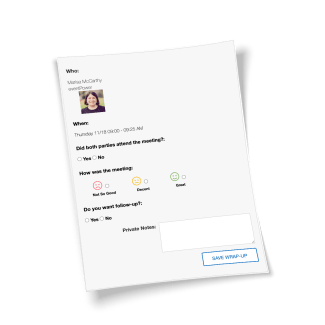 Hybrid, Live or Virtual...One Platform
Meetings can be held in-person for a live event or virtually (up to five participants in each meeting) on the platform for a hybrid or virtual event enabling attendees to easily organize all of their networking appointments in one convenient location.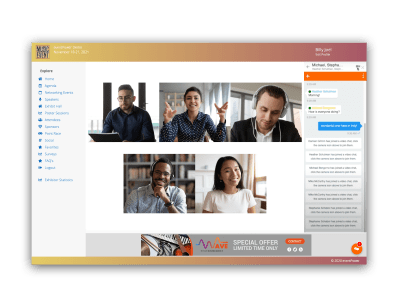 Hosted Buyer Program
Utilize matchmaking to bring together qualified buyers and sellers for business opportunities during your event. Exhibitors and sponsors can purchase the opportunity to participate, and attendees can sign up during the registration process. Event management can choose the allotted time for each meeting and the break time between meetings to create a rotating schedule of pre-arranged appointments. Exhibitors and sponsors can check-in for meetings and share information with event management to see reports for all completed meetings. Appointments can take place face-to-face or virtually, depending on the needs of the company and/or attendee.
Let's Meet
Contact eventPower to inquire about using matchmaking for your next event.
Request a Demo
Meet Your Team
We'll help you build it.
We'll provide one-on-one training.
We're available by phone or email when you need us.


Our Clients are Talking

Amazing tool and the team was fabulous. The platform allowed us to conduct a professional virtual event that includes a lot of the bells and whistles that you would experience during an onsite event. The different tracking/metric tools in the platform are awesome. These metrics for tracking the virtual event are better than metrics from an onsite event."

- Becky Schneider, Corporate Events
Maxar