Tiffany Sheets
Project Manager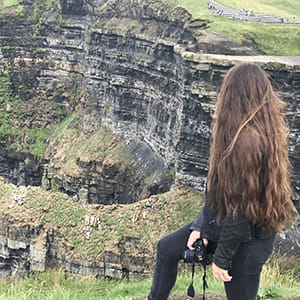 Luck of the Irish
In my 'fun' photo I am overlooking the Cliffs of Moher in Ireland holding my camera. I love photography and travel for fun! I even make montages of every new place I travel to. Ireland was my first solo trip because *fun fact* I am Irish! This trip led me to great friends and is something I will always cherish.
Meet Tiffany
Tiffany is an experienced worker with a demonstrated history of working in events, healthcare, retail and hospitality industries. Events have always been a passion of Tiffany's beginning with an internship to a Native Wilmington, NC non-profit, to wedding planning, to larger scale events. Her educational background includes a Bachelor's of Arts in Tourism, Hospitality and Event Planning Management; a Bachelor's of Science in Management and Leadership; and a Master's in Healthcare Administration.
---
Fun Facts
Would you rather vacation on the beach or in the mountains?
Beach all the way (even though I currently live at the beach)! Mountains can be fun, but they are just a little cold for me.
What is your favorite movie?
Comedy - 50 First Dates
Romance - Burlesque
Horror - The Strangers
What is your favorite thing to do in Las Vegas?
Play the digital roulette tables!
What was your favorite vacation?
I have 2: Ireland and Croatia!