Teri Higgins
Exhibit Product Manager/Senior Fulfillment Manager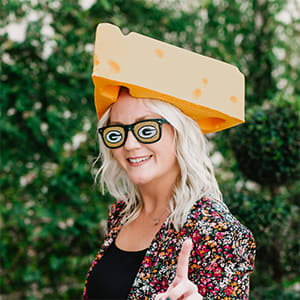 What's with the cheesehead?
I was born and raised in Wisconsin so, naturally, I'm a ride-or-die Green Bay Packers fan. Yes, we proudly wear cheese on our heads for fun, and I wouldn't have it any other way!
Meet Teri
Teri graduated with a Bachelor of Science Degree in Hospitality Management and a minor in Business Management from the University of South Florida (GO BULLS!). During her college internship, Teri was offered a position at Tampa's Lowry Park Zoo where she started her career as an Event Coordinator. Teri was able to take her passion for events and combine it with her passion for animal conservation by selling and planning events and fundraisers of all calibers from corporate meetings to weddings to beer/wine festivals. Eventually, Teri was ready for her next step where she became Director of Events with Spectra, a Comcast-owned venue management company, where she oversaw the events department across multiple venues including convention centers, museums and concert venues. It was during her 5 years with Spectra that she realized her strongest professional attributes were in operations and planning which ultimately led her to accepting her position with eventPower where she gets to focus on her strengths every day. The rest is history. 
---
Fun Facts
Would you rather vacation on the beach or in the mountains?
I used to be a beach girl, but as I've grown up, I've definitely become a mountains girl. There's no place I love more than being in the mountains. I would go any day with my little family (my significant other and our dogs), and we would spend our time exploring. Whether it be hiking or just enjoying the scenery and wildlife, there is nothing better than enjoying the mountain air.
What are people often surprised to learn about you?
I'm from an incredibly small Wisconsin town of 1,500 people with a graduating high school class of 47 students.
What is the quirkiest thing about you?
Everyone that knows me knows that I'm a big animal rescue advocate and would adopt more if I had the space and time...but not just dogs. One of my goals since I was a child has been to have a farm/animal sanctuary with a unique variety of animals including alpaca, mini-cows, goats and even raccoons.
What was your favorite Halloween costume?
A few years ago, my girlfriends and I dressed up as classic 90's wrestlers. We went all in and didn't skimp on the cheesiness. I was Hulk Hogan and stayed in character all night, so much so that I didn't have a voice the next day.