Mark Labonte
AV & Logistics Senior Manager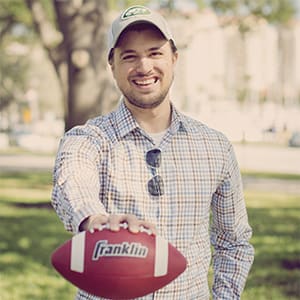 Diehard Jets Fan!
I am, unfortunately, a life-long New York Jets fan.My photo encapsulates my excitement at the beginning of every season with the newfound hope that 'this year will be different!'. Of course, by the second game of the year, those hopes are typically dashed as the Jets incompetently lose to worse teams, get smacked around by better teams and spend the second half of the season hoping for more losses for a better draft pick the following year.
Meet Mark
Mark has over 15 years of experience in the world of AV and conferencing. He earned his Bachelor of Arts degree in Communications from Marymount Manhattan College as well as a Master of Arts degree from New York Institute of Technology from his hometown of Long Island. Mark's career has spanned from internships at Live with Regis & Kelly and The Colbert Report to formal and contractor positions at The National Archives, AOL and The Boeing Company in the Washington, D.C. metro area. Mark earned his Certified Technology Specialist (CTS) certification in 2015 and joined eventPower in 2019 where he serves as AV & Logistics Senior Manager.
---
Fun Facts
What are some things you think everyone should try at least once in their lifetime? Why?
Sky-diving. I've only done it once (and there was a dude on my back), but it is the only experience I've ever had in my life that I can't fully describe or put into words. I cannot think of another experience where I felt complete and total helplessness combined with intense exhilaration. Plus, leading up to it, you also have the most serious anxiety and nervousness while you're sitting on the plane waiting for your turn. In the end, you feel pure joy and accomplishment for trying something that scary. Perhaps that is what makes the experience unique: You get to feel SUCH a variety of emotions within a small 30-minute window. There are very few experiences in life that come close to it.
What is your favorite ice cream flavor?
Butter Pecan. I know it's an 'old man flavor', but seriously--- it's just plain delicious. It may not have the flash of 'cookies n' cream' or the sex appeal of 'rocky road', but it's the best flavor to just sit out on the porch and enjoy a moment with.
When you were 16, what did you want to be when you grew up?
A Dinosaur. Gotta admit, my parents were a little bit worried for awhile. Thankfully, by the time I hit my second year of college, I realized it wasn't a very realistic idea. That...plus the pay was awful.
What was your first celebrity crush?
Lea Thompson. I probably set a record at my local library for the amount of times I rented the VHS tape of Back to the Future and Howard the Duck. There was just something about that red hair, I guess. She still looks great, too.