Maria DesRochers
Project Manager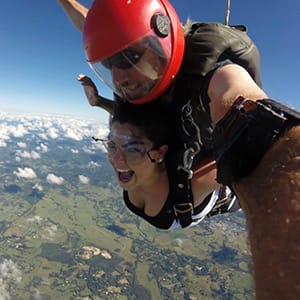 The Sky's the Limit
I'm a big adrenaline junkie! Skydiving, bungee jumping, scuba diving -- I love it all! My favorite skydive was in Byron Bay, Australia, where there was nothing but blue skies.
Meet Maria
Maria loves bringing people together for events and experiences. In 2017, she graduated from the University of Tampa with a degree in Advertising & Public Relations. Shortly after, she began her career working for a non-profit on their conferences team, where she learned just how much coffee conference attendees can drink in the morning. She joined eventPower in 2022 as a Project Manager where she uses her attention to detail and love of spreadsheets to help a great team create exceptional experiences.
---
Fun Facts
If you could have dinner with anyone (current or historical), who would it be and where would you go?
I think about this question probably too much, and the answer changes daily. Today, the answer is Ina Garten. I love to be in the kitchen, and her dinner parties on Instagram always look amazing! Going to a restaurant with Ina would be just silly so we're flying to her Paris apartment to cook and drink wine. Casual.
What do you like but are kind of embarrassed to admit?
I love terrible movies. I'm talking a 2 star rating max. Sharknado, Hallmark movies, you name it. I find them so entertaining!
What is your favorite way to spend your free time?
I moved to Nashville in December 2020 with a laundry list of restaurants and bars I wanted to try. The list has only gotten longer so my friends and I spend our days checking them off, one by one.
What was your favorite Halloween costume?
In 2021, I was Kris Jenner. It truly was amazing, sweetie.