Leigh Guzman
Customer Service Team Lead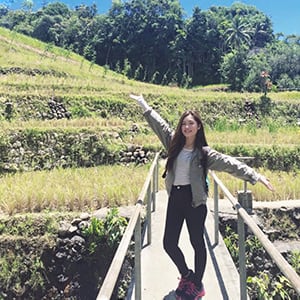 For a Good Cause
I volunteered in the rehabilitation project of the Nagacadan Rice Terraces in Ifugao, which is a UNESCO World Heritage Site. A lot of it was trekking and pure manual labor, but it was so much fun! I was in awe of the beauty of the mountains the entire time.
Meet Leigh
Leigh majored in Diplomacy and graduated with a Bachelor of Arts degree in Foreign Service from Lyceum of the Philippines University. She started her career in the oilfield industry, working for Jaberi group in the Kingdom of Bahrain as a Sales and Procurement Supervisor. She then went on to work for the Philippine government's transport sector as a Public Relations Officer. Fast forward to 2021, Leigh joins eventPower as a member of its customer service team.
---
Fun Facts
What are some things everyone should try at least once in their lifetime? Why?
Take a solo trip abroad. Really immerse in the culture and befriend a local. They know the best food and hangout spots!
What is your favorite ice cream flavor?
Strawberry! But it has to have strawberry chunks in there.
What is your favorite way to spend your free time?
I like to try out new restaurants, visit art exhibits, and hang out with my dog.
What was your favorite vacation?
It would have to be Bali.