Hiroko Strange
Director of Creative Services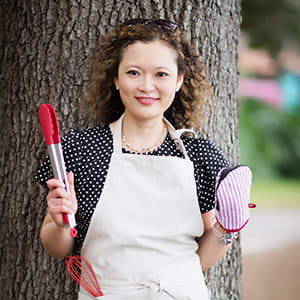 Cookin' with Hiroko
I love exploring new foods, cooking, and inventing new recipes. I get a tremendous sense of confidence and satisfaction from preparing meals for others.
Meet Hiroko
Hiroko is an efficient, results-driven manager with more than 19 years of experience in graphic design, project management, client relations and vendor management. As the Creative Services Director at eventPower, Hiroko creates branding for as many as 20 events a year, developing branded graphics that are unique, meaningful and consistent to make eventPower's events recognizable and memorable while directing all creative projects simultaneously within strict time frames and approved budgetary parameters. For all deliverables, she sets specifications, obtains and reviews competitive bids from printers and vendors across the country, analyzes cost estimates, defines production schedules, manages timelines and ensures quality. Prior to joining eventPower, she assisted the production of The Washington Business Journal and the collateral and signage for their B2B events. As the Production Artist for a marketing agency in DC, she produced promotional materials and annual reports for Fortune 500 firms. One of her strengths is her adaptability. She is able to jump easily from being a designer to project manager, from print buyer to decision maker. This adaptability is also evident in her design work where she is able to handle any task — be it a hotel key card for an interior designer conference, a 60-page program guide for international summit, a main stage set for a tech expo, a PowerPoint deck for a congressional hearing, or digital assets for virtual events. She holds a Bachelor of Arts degree in Communications from Trinity Washington University in Washington, D.C.
---
Fun Facts
If you could have dinner with anyone (current or historical) who would it be and where would you go?
I would love to be invited to a dinner by Ina Garten (an American author, host of the Food Network show Barefoot Contessa) in her East Hampton home. I own every cookbook she published and tried most of her recipes. She and I also have something in common. Our husbands' name is Jeffery. Anyways, the dinner shall be her famous Herb-Roasted Salmon with Balsamic Brussels Sprouts. For dessert, we would walk over to her beautiful garden and enjoy her classic chocolate layer cake. She always looks warm and inviting and seems not to care how famous or popular she is. She is also a self-taught cook!
What other languages do you speak?
Japanese
What is the quirkiest thing about you?
I love chocolates. I buy chocolates every chance I get and hide them in random places in my house so my kids won't eat them. Unfortunately, I forget where I hide them sometimes and buy more---it's a vicious cycle. On the upside, I find little sweet treasures unexpectedly, which makes me happy.
What is your favorite movie?
The Family Stone, It's Complicated, The Departed, Gladiator