Frank Powell
President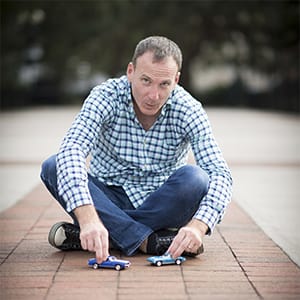 What's with The Toy Cars?
You can't really see the toy car in the photo, but I have an affinity for old cars. My first car was a beat-up 1959 Volkswagon Beatle. I paid $400 for this rusted old Bug that didn't have AC or heat. Back then, VW's didn't even have a gas gauge. In spite of its old-car charms, I loved it, and I have been attracted to the simplicity of old cars ever since. Since those VW days, I have had the pleasure of cruising the family around in a '64 Vette, '66 Caddy and an '84 Jeep CJ7 (current project car).
Meet Frank
Frank went to the University of Maryland College Park where he was exposed to producing concerts, campus events and showcasing interesting and controversial speakers to the students. He was caught by the live-event bug, and his first job out of college was working for National Trade Productions where he helped to produce the largest federal government conference in the industry. He later formed Technology Forums that produced small events in civilian government agencies and military installations. The company quickly expanded to produce large-scale, government conferences attracting upwards to 10,000 attendees. eventPower was formed due to the internal need for a robust conference software platform for his internal government events. Frank now enjoys leading the eventPower team to provide event technology solutions and services to support other meeting professionals who require robust solutions for their events and conferences. After the COVID-19 pandemic in 2020, it was a natural progression to include virtual events to mix and the Virtual Event Experience began.
---
Fun Facts
Would you rather vacation on the beach or in the mountains?
While I live in Florida and enjoy the beach often, I really love the mountains in the winter. Skiing with the family is my version of fun!
What are you dying to try but have yet to do it?
I have been bungee jumping out of a hot air balloon in Steamboat, CO. However, sky diving and kite surfing are still unchecked boxes on my bucket list.
What is your favorite movie?
One might call it a strange combo because it ranges from classic romantic comedies to Quinten Tarrantino movies. My faves include When Harry Met Sally, Four Weddings and a Funeral, Pulp Fiction and Kill Bill.
What was the first concert you went to and where?
I was about 8 years old when I saw the Jackson 5 perform at the Ohio State Fair just outside of Dayton, OH. Over the next few years, I saw the Doobie Brothers and Styx where I still have the concert shirts. While you may find it strange...Frank Sinatra, Ella Fitzgerald and all Classic Rock are my go-to genres of music.