Ariel Pankratz
Project Manager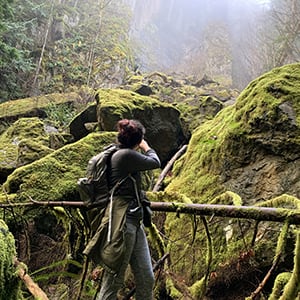 Into the Great Outdoors
This picture is from when I was hiking in Washington State. I love hiking, and the Pacific Northwest has a special place in my heart.
Meet Ariel
Ariel started working in events when she was fresh out of college. She helped manage K-12 engineering activities and realized she loved events. Soon after, she started working for the events team at Meeting Professionals International (MPI). She moved to Seattle for a year where she assisted with both Google and Amazon events. When she moved back to Texas, she worked for MPI again but this time around specializing in event technology. She joined the eventPower team in November of 2021 as a Project Manager.
---
Fun Facts
Would you rather vacation on the beach or in the mountains?
Mountains. I LOVE Mountains. Mountains are my happy place. My ideal vacation in the mountains would be a multi-day backpacking trip with the outdoorsy people in my life OR a getaway to a cabin.
Were you named after anyone?
It's fairly obvious but I am, in fact, named after The Little Mermaid. My mom and dad could not agree on a baby name. Once I was born, my mom was too tired to pick, so the job fell to my dad. The movie was playing on the tv when he had to make the decision and figured nobody would know. When he gave the name to the nurse, she immediately said, "oh like the little mermaid!"
What are people often surprised to learn about you?
People are often surprised that I like country music, which is weird because I'm born and raised Texan. So don't be surprised when I throw on some Alan Jackson or Shania Twain.
What is your favorite way to spend your free time?
I have quite a few hobbies that I enjoy in my free time. I play piano, guitar, violin and sing (kinda). I like to camp, hike and be outdoors in general. I also cook a lot. Once you get sharp knives, life in the kitchen is actually fun.