Virtual & Hybrid Event Experience
Watch Overview Video


Live, Hybrid or Virtual…

Plan once with the eventPower all-in-one conference management solution.

Request a Demo
All-in-One Solution
The eventPower platform uses one centralized system to register attendees, coordinate speakers, posters and contract sponsors and exhibitors. Quickly pivot from live, hybrid and virtual event formats...no APIs, no importing and exporting data. Accessibility and captioning are also available to ensure event content is accessible to all attendees.


Matchmaking & Meeting Scheduling
The platform allows for attendees to use advanced filters to match up with other attendees, exhibitors, sponsors and speakers who have similar needs. Attendees can request and schedule appointments, manage their meeting calendar and take notes. In a hybrid meeting format, the attendee can choose a physical location to meet or select to meet virtually within the platform.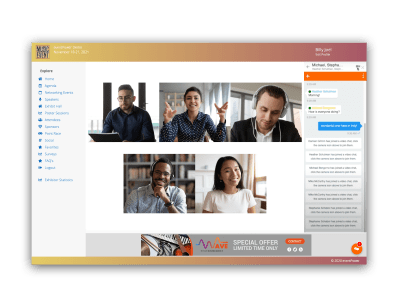 Live Streaming & Pre-Recorded Sessions
Streaming can be approached in many different ways depending on the needs of each session and the client's desire to leverage certain streaming tools over others. The platform has built-in streaming technology and can accept third-party integrations providing the option to host video content live, pre-recorded or semi-live.
Interactive Dashboard & Mobile App
The solution acts as a web-based mobile app for in-person attendees. Attendees can register for the event, build their agenda, access sessions and network with exhibitors, sponsors and other attendees from the comfort of home or onsite at the event, all using the same platform.


Virtual Exhibit Hall
Exhibitors showcase their offerings in engaging virtual booths and post resources and promotional videos to easily network with other attendees. Exhibitors can manage their in-person and virtual booths within one portal and can access real-time reporting and analytics to drive additional return on their investment.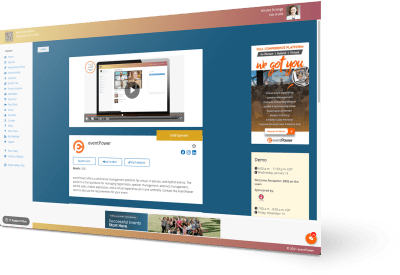 Sponsor Opportunities
Banner ads, pop-ups and strategic graphic placements are available throughout the platform to incentivize sponsors to support your event and help you monetize it.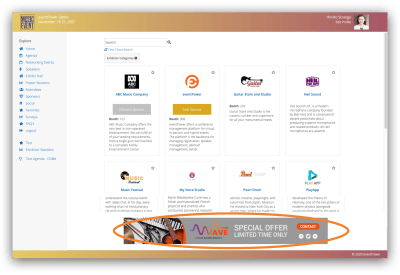 Poster Hall
Attendees have the opportunity to view posters, read supplemental information, chat with the presenter, swap virtual business cards, view on-demand video presentations and even schedule a one-on-one meeting.
Endless Networking Opportunities
Attendees can text or video chat, swap business cards, schedule appointments and collaborate directly within the platform. Attendees can create filters to find exactly who sells the products that interest them or simply find another attendee to exchange ideas. The platform is designed for a hybrid environment where in-person and online attendees can easily network with one another within the same platform.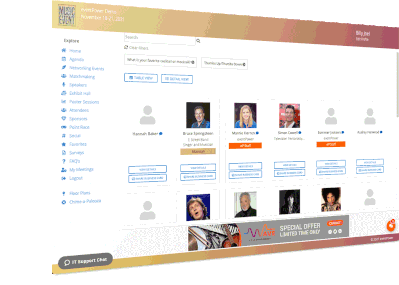 Session Engagement & Tracking
Session engagement is key to retaining your audience's attention. Speakers can leverage a real-time polling feature that is integrated within their slide deck. Advanced Q&A features are designed for a virtual, in-person or hybrid audience to submit questions in an orderly format. Alertness checks, surveys, tests or questionnaires can be scheduled to appear at the end of each session. Reports compiling the engagement stats make it easy to assign CEU or CME credits.
Gamification
Engage attendees and encourage participation across the event with gamification. Attendees can collect points for various activities, and a leader board displays the top-ranked attendees.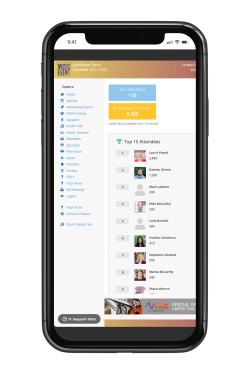 Reporting
Track attendance, time logged into sessions and engagement with robust reporting capabilities. Exhibitors and sponsors receive real-time analytics including visitors to booths, attendee reports as well as who downloaded and viewed marketing materials. All reports are available to export into a .csv or Excel file.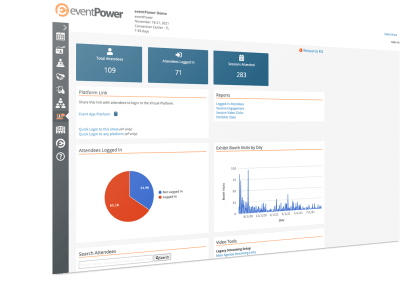 We're Happy to Help You.
Our digital events team will work side-by-side with you to deliver an experience that your attendees won't forget! Contact us today to support you and your audience.
As Seen on ASAE's Virtual Demo Day

eventPower wowed the American Society of Association Executives (ASAE) during their virtual platform demo day. The event attracted thousands of viewers when they showcased the demo of eventPower's virtual solution. Watch the 30-minute product demo below.




Request a Demo
Meet Your Team
We'll help you build it.
We'll provide one-on-one training.
We're available by phone or email when you need us.


Our Clients are Talking

We were flying blind when we started the process. eventPower's suite of tools were easy to navigate and organized our agenda, speakers, expo hall with ease. Our eventPower team was with us every step of the way and helped us maximize our event through knowledge, teamwork and a great suite of products."

- Dana Bilyeu, National Association of State Retirement Administrators (NASRA)
NASRA Annual Conference