Marci Hickey
Project Manager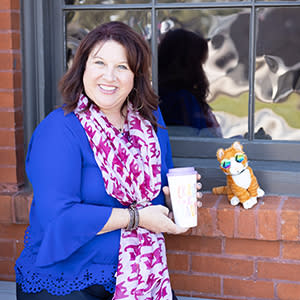 No Bones About It
Having worked in the pet industry for over 20 years, I'm a huge animal lover. I presently have 4 cats and a little dog who thinks she is a cat. My friends all tease me as a "Crazy Cat Lady". I love my furbabies! In my free time, I volunteer for a local cat rescue. If I can't bring any more cats home, I like to help play matchmaker and help kitties find their fur-ever home.
Meet Marci
Marci brings over 20 years of event planning experience as Director of Meetings and Member Services for multiple association management companies. In this role, Marci wore many hats, with responsibility for meeting management, marketing communications and membership development for organizations spanning the pet industry, fundraising community as well as legal and scientific societies. Marci has been an active Certified Meeting Professional (CMP) since 2004, recertifying every five years. Additionally, Marci obtained her Digital Event Strategist certificate from the Professional Convention Management Association (PCMA) in September 2020. Marci joined the eventPower team in 2022 as Project Manager supporting her clients' vision to execute efficient live, hybrid and virtual events utilizing the eventPower suite of software tools.
---
Fun Facts
If you could have dinner with anyone (current or historical), who would it be and where would you go?
I would love to have lunch with JK Rowling, author of the Harry Potter series. Her life story and her wild imagination are such an inspiration to me! She created an entire wizarding universe and a collection of stories that touched the lives of so many and continue to do so. And with all this success, she has managed to stay humble and give generously. I'd love to get deep in conversation about her inspiration in life and her writing.
What was your favorite vacation?
My favorite vacation is the week I spend at the Delaware beaches with my extended family. It is a week of relaxing, reading, napping, puzzles and games. My brother cooks for us. It's like staying at a bed and breakfast! We also spend time bike riding and kayaking. Life gets chaotic, and it is important to unplug and slow down every once in a while.
What are you dying to try but haven't done yet?
Traveling to Europe! I've never been to any other continent, and I have so many places on my bucket list including England, Scotland and Spain.
What is the quirkiest thing about you?
My friends would say I have several quirks, but the quirkiest thing about me is probably my trivia knowledge! I love trivia of all kinds and enjoy playing pub trivia with my friends. It's amazing the little nuggets of information the brain can recall.