Kevin Lutz
Junior Software Developer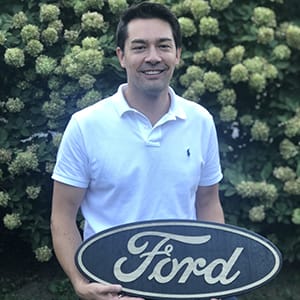 Detroit Roots
I have a lot of family history from Detroit and recently learned that my aunt's grandfather, Masao Hirata, was one of the men who helped build the first V8 motor for Henry Ford, and is depicted in the North Wall mural of the Detroit Institute of Arts. Two of his proudest possessions were a notation from President Franklin Roosevelt which reads "For service with the Ford Company during the war" and a personal letter from Henry Ford commending him for 25 years of service. I grew up in Atlanta, but it's been fun learning about my Detroit roots!
Meet Kevin
Kevin is an Atlanta native who graduated with a Bachelor's degree from Emory University in 2008. He is a Ruby on Rails enthusiast and passionate about technology's ever-increasing usefulness to humanity. Kevin believes that learning is a lifelong process, and his goal is to continually learn the art of writing highly cohesive objected oriented code. He is a proponent of health & wellness and is passionate about diet, exercise, sleep and living an active lifestyle. In his free time, he plays tennis and golf with his friends and enjoys spending quality time with loved ones.
---
Fun Facts
If you could have dinner with anyone (current or historical), who would it be and where would you go?
Winston Churchill - I would take him to Keens Steakhouse on 72 W. 36th St. in New York City.
What are you dying to try but haven't done yet?
Skydive!
What was the first concert that you went to and where?
Dave Matthews Band - Atlanta, GA
HiFi Buys Amphitheater
What is your favorite movie?
Legends of the Fall