Cortland Comer
Customer Support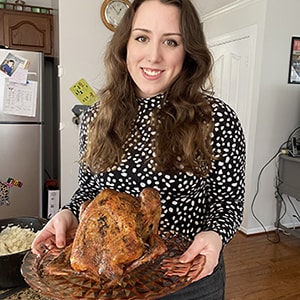 In The Kitchen
I love cooking and baking, especially trying out new recipes and making things I never have before. This picture shows my first ever Thanksgiving turkey!
Meet Cortland
Cortland graduated from the University of Virginia in 2021 with a bachelor's degree in Government and Psychology. She is currently a graduate student at UVA's McIntire School of Commerce and is a McIntire School of Commerce Marketing and Management candidate. Cortland joined the customer service team in May 2021 and has enjoyed learning new skills and navigating the ever-changing climate of customer service. She currently works as a Social Media Intern for the McIntire School of Commerce, Graduate Programs Office, running the social media platforms to recruit new students. Prior to eventPower, Cortland worked as the Social Media Manager for a patent company.
---
Fun Facts
Would you rather vacation on the beach or in the mountains?
I would rather vacation in the mountains. I would like to go on a relaxing vacation with my friends, where we hike and sit around the campfire making s'mores.
What was your first car?
My first (and current) car is a 2005 black Ford Focus named Fernando.
What was your favorite Halloween costume?
My favorite Halloween costume was when I dressed up as the Phantom of the Opera when I was about 11. I made the iconic mask out of a plastic Party City mask and remember being extremely excited about wearing a cape. No one really knew who I was, but I enjoyed getting candy.
What is your favorite way to spend your free time?
I am a big crafter and enjoy crocheting, cross stitching and painting in my free time.