Tonia Saba
Junior Developer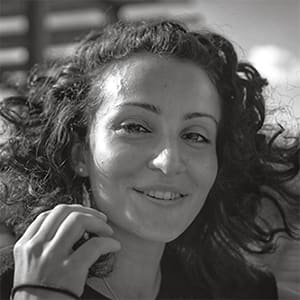 Hair like Medusa
I was in downtown Atlanta hanging out with my friend who is a journalist/photographer for AJ+ news. (She always has her photo gear on her). She just finished telling me that my hair looks like Medusa when she took the photo.
Meet Tonia
Tonia graduated from General Assembly in July 2020 with a certificate in Software Engineering and is currently pursuing a degree in Computer Science at Colorado State University. When Tonia is not coding, she is creating music. Tonia's love for coding began when she was working in studios surrounded by audio producers who were also software engineers. She loved the idea of merging both her passions, coding by day and making music by night. Tonia is a self-taught audio producer and audio engineer having completed several projects on various streaming platforms. While studying at General Assembly, she learned front and back-end programming languages, tools and methodologies including HTML, CSS, SASS, Javascript, jQuery, PostgreSQL, MongoDB, Ruby, Ruby on Rails, AngularJS, NodeJS, ReactJS, WordPress, Git, Github and Agile/Scrum. In her downtime, you can find Tonia DJing in Washington, DC and New York. Tonia joined the eventPower team in December 2020 as a software developer.
---
Fun Facts
If you could have dinner with anyone (current or historical) who would it be and where would you go?
Elon Musk because I really would like to get on one of his spaceships and head to Mars someday.
What is your favorite way to spend your free time?
At a cafe with my friends.
What other languages do you speak?
Arabic
When you were 16, what did you want to be when you grew up?
A world traveling DJ.