Paula Korowin
Project Manager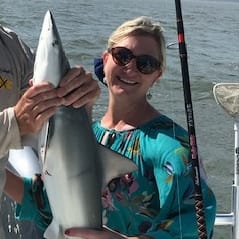 Go Fish
The Power of Events - creating experiences and memories for a lifetime! As an attendee at an event, one of the activity options was to go deep-sea fishing. I have always enjoyed fishing and dreamed of catching a shark one day. Through the opportunity of a well-planned event, I got to fulfill one of my bucket list goals. That is why I LOVE being in this industry. We get to be part of the process to create these sorts of experiences for people! Planning events is a lot of work but worth it when you see all the smiles, hugs, laughter and joy that are the end result.
Meet Paula
Paula's professional work experience includes an impressive resume of "who's who" including the Industrial Asset Management Council (IAMC), PepsiCo - Frito-Lay, Hilton Hotels Corp., Michigan Credit Union League (MCUL), No Worries Home Management (NWHM) and Cartus International. Paula has two Bachelor's degrees from Eastern Michigan University: Organizational Communications and Psychology with a minor in Sociology. Paula graduated summa cum laude from the University of Michigan with an MA in Education, specializing in Performance Improvement & Instructional Design. In addition to her formal education, Paula started and managed her own business where she learned a diverse skillset including operations/logistics, human resources, accounting & finance, sales & marketing and strategic planning. Paula carries a Certified Meeting Professional (CMP) designation which she has held since 2000.
---
Fun Facts
Would you rather vacation on the beach or in the mountains?
Depends on the time of year and who can join me! The mountains - I love the winter scenery and getting cozy near a crackling fire; the beach - I love falling asleep to the sound of the ocean waves and pretty much everything else you do (or don't do) there.
What is your secret talent?
One of my hobbies is cutting hair. My adult sons prefer my haircuts over the $50 salon ones, and I'm pretty sure one of my past boyfriends kept me around for several years longer for the free haircuts.
What sports team do you root for?
Go Blue! The University of Michigan Wolverines - mostly football, hockey and basketball. I also love the Detroit Red Wings. And for the rest of this junior hockey season, I'm an EHL Seacoast Spartans fan (my son, Nate, plays for their hockey team).
What is your favorite way to spend your free time?
Jazzercise! I take classes 5-6 times a week. My husband calls it "the cult."