Marisa Hafer
Sales Manager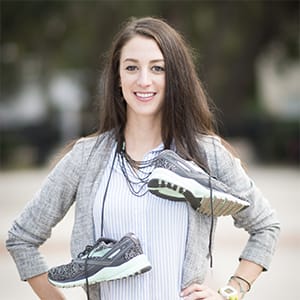 Eat, Sell, Run...Repeat
I am an avid runner so I'm showing off my running shoes. My Mom started me in track when I was just four years old, and I've made it a life long hobby.
Meet Marisa
Marisa holds a Bachelor of Science degree from Towson University in Baltimore, MD. She has over 10 years of experience in event planning, project administration and event sales throughout a variety of industries including telecommunications, cyber security, military & defense and experiential marketing. Marisa leads our sales team as Sales Manager driving revenue through sponsorship and exhibiting opportunities for our clients.
---
Fun Facts
What are some things you think everyone should try at least once in their lifetime? Why?
Traveling! The experiences and memories made from traveling domestically and abroad are immeasurable.
What was your favorite Halloween costume?
The Pillsbury Doughboy. I dressed up as this lovable character my senior year of high school by stuffing a white sweat suit with feathers and wearing a white chefs hat.
What was your favorite vacation?
Fiji and New Zealand. I spent 15 days traveling the islands. Our activities included fire walks, Kava ceremonies, snorkeling and skydiving.
What is your favorite way to spend your free time?
Kayaking, Running and boating. Living in Florida gives ample opportunity for outdoor activities.