Audrey Harwood
Project Manager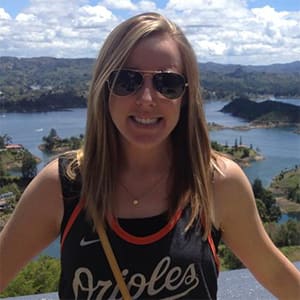 The Great Outdoors
I make it a point to hike or explore on every trip I go on. Somehow, when visiting Bogotá Colombia, I was convinced to drive 2 hrs and climb up 725 stairs to the top of Peñon de Guatapé. I quickly overlooked my legs feeling like jello when I saw the views at the top!
Meet Audrey
Audrey graduated from the University of Baltimore with a degree in Marketing but wasn't always on course to work in events. Audrey started her college journey with the anticipation to be a pharmacist. She quickly shifted into marketing and soon learned after her first gig in events that this was her destiny. Audrey has a real knack for organization and checking off the "boxes" in planning. She has worked on a plethora of events ranging from music festivals to large corporate conferences. Audrey joined the eventPower team in 2020 as project manager and ensures all of those "boxes" are checked for her clients to run a smooth and efficient event.
---
Fun Facts
What are some things you think everyone should try at least once in their lifetime? Why?
Solo travel (safely, of course!). Traveling alone forces us outside of our comfort zones, which makes us more receptive to new people and experiences. However, speaking from experience, I don't recommend missing your flight in a country in which you don't fluently speak the language.
What is your favorite ice cream flavor?
I can't discriminate on ice cream. I would eat any flavor you put in front of me. Anything with mocha and chocolate like Mocha Choc Chunk.
What do you like but are kind of embarrassed to admit?
I have a LONG list of embarrassing television shows that I watch, most of them falling in the reality TV realm. Most recently topping the scale for most embarrassing is anything from the 90 Day Fiancé series.
What are you dying to try but haven't done yet?
In progress - visiting all 50 states tops my bucket list! I have currently checked off 34 states. I still have some in the northeast and northwest to tackle. It only counts as a visit if you stay the night!